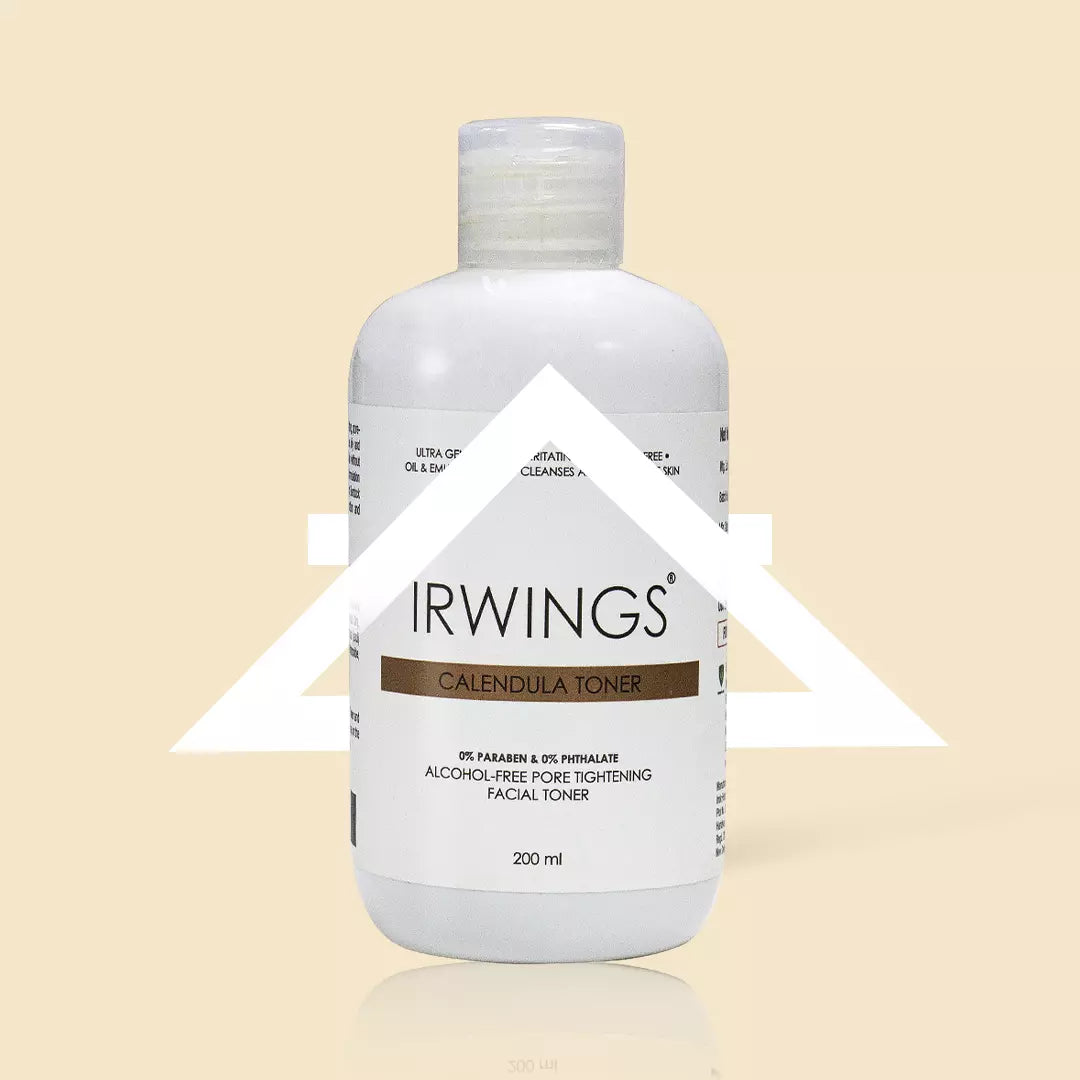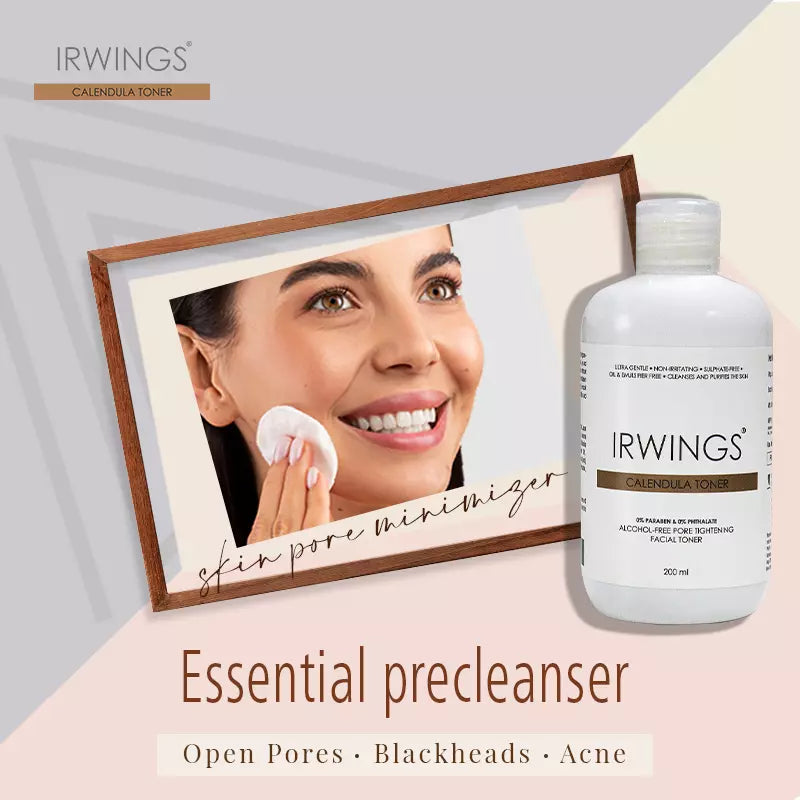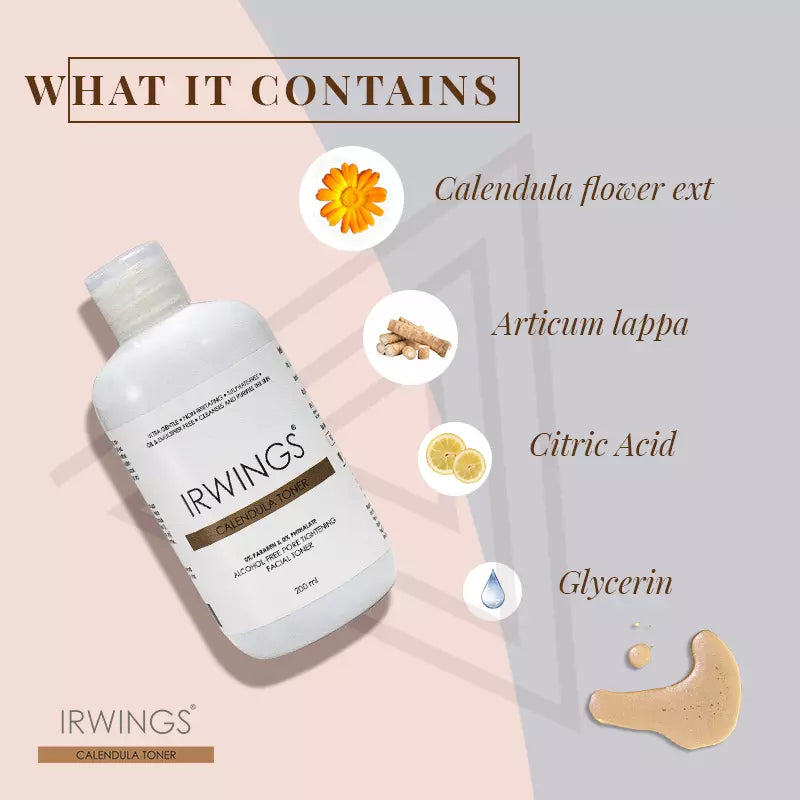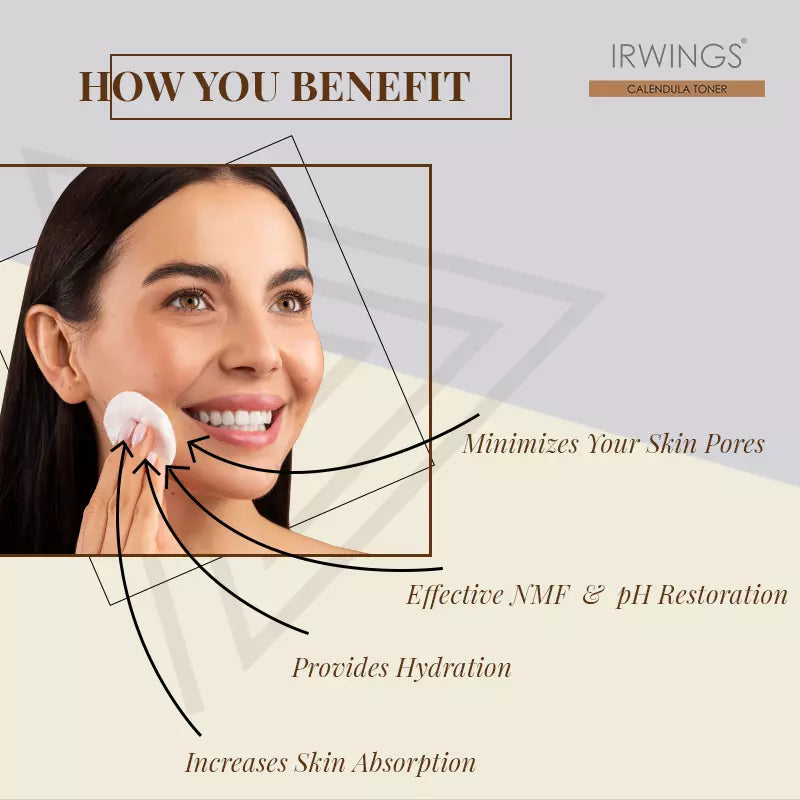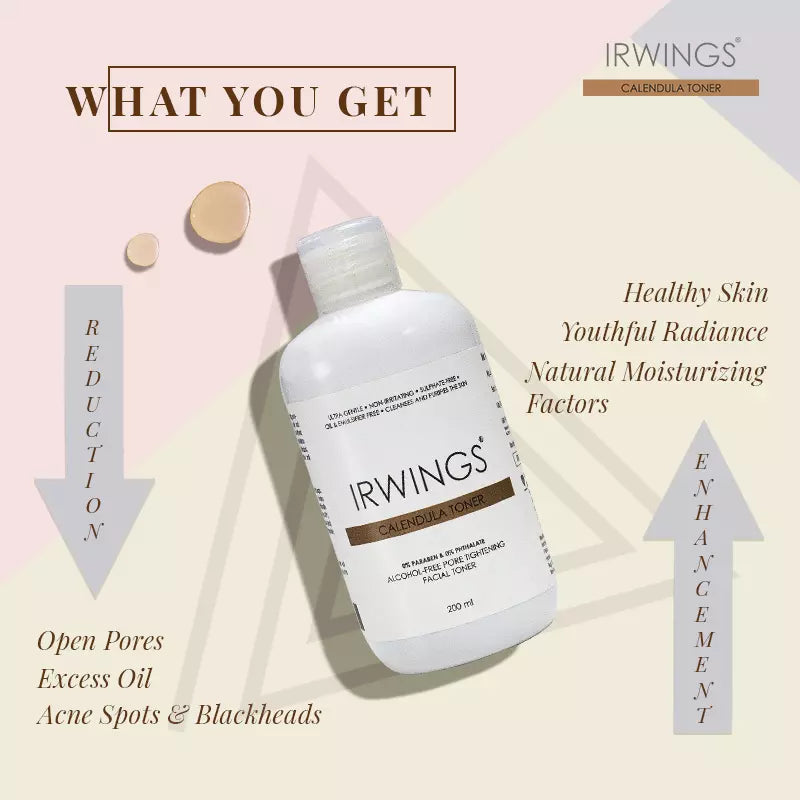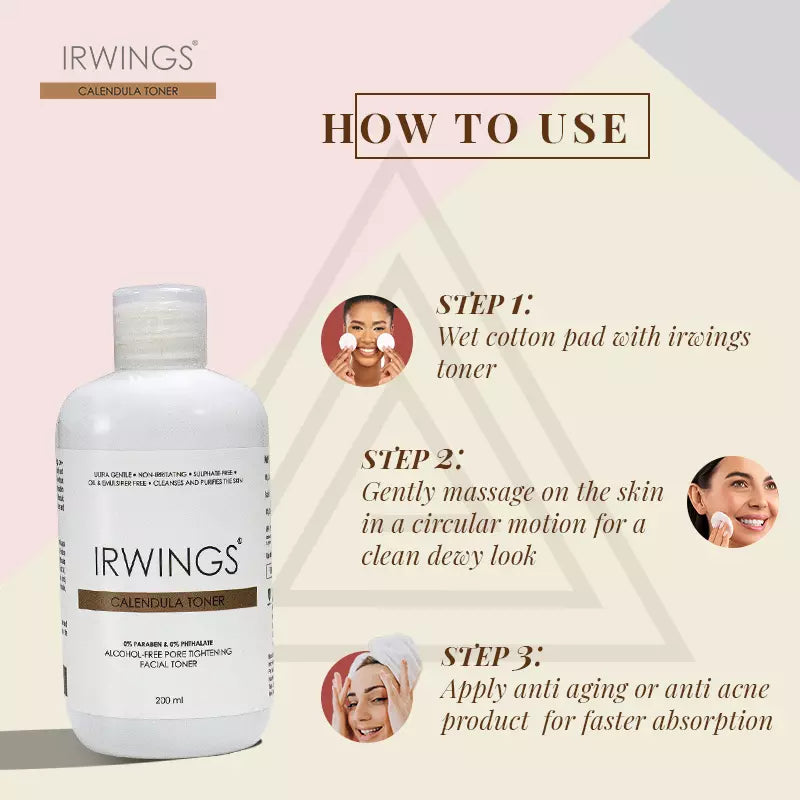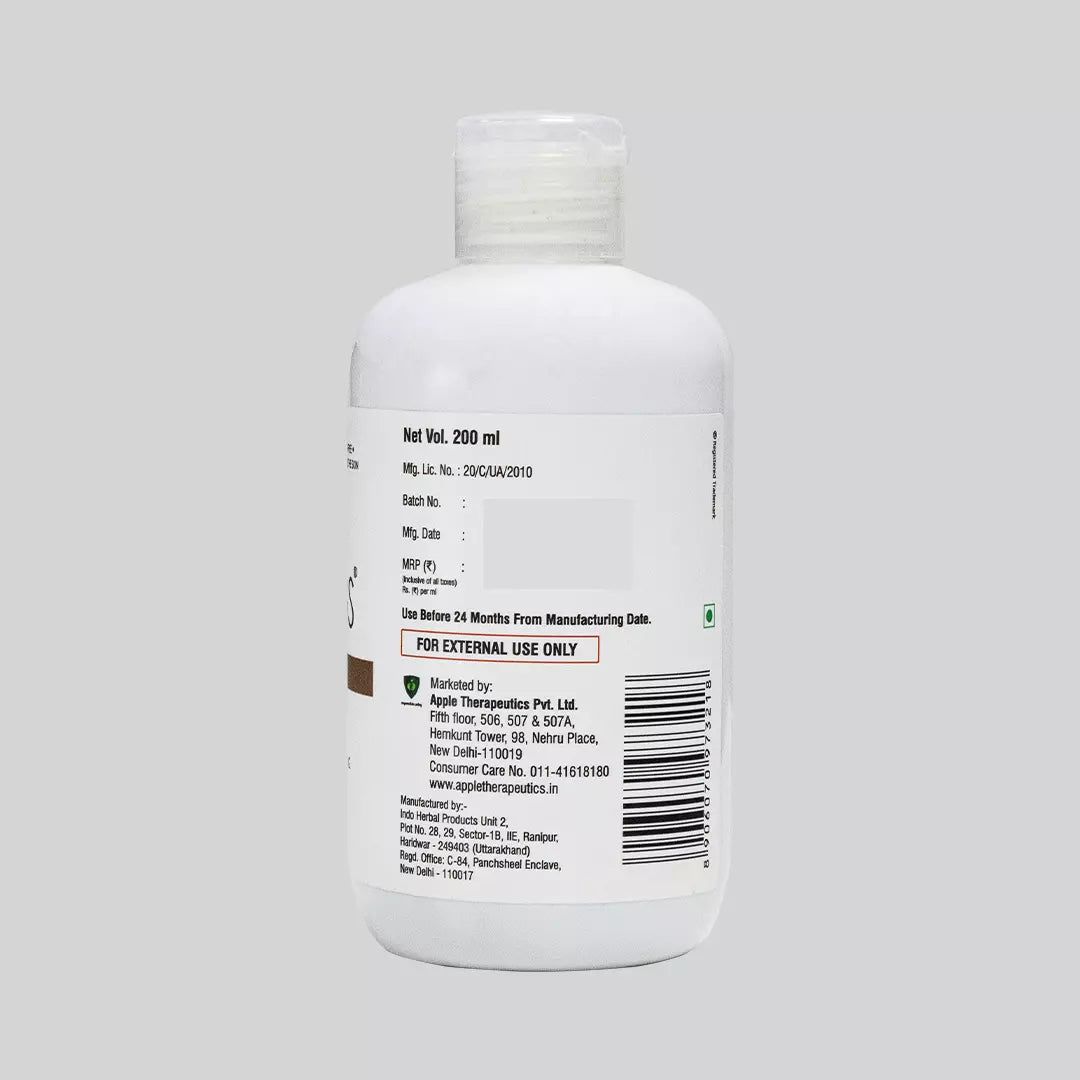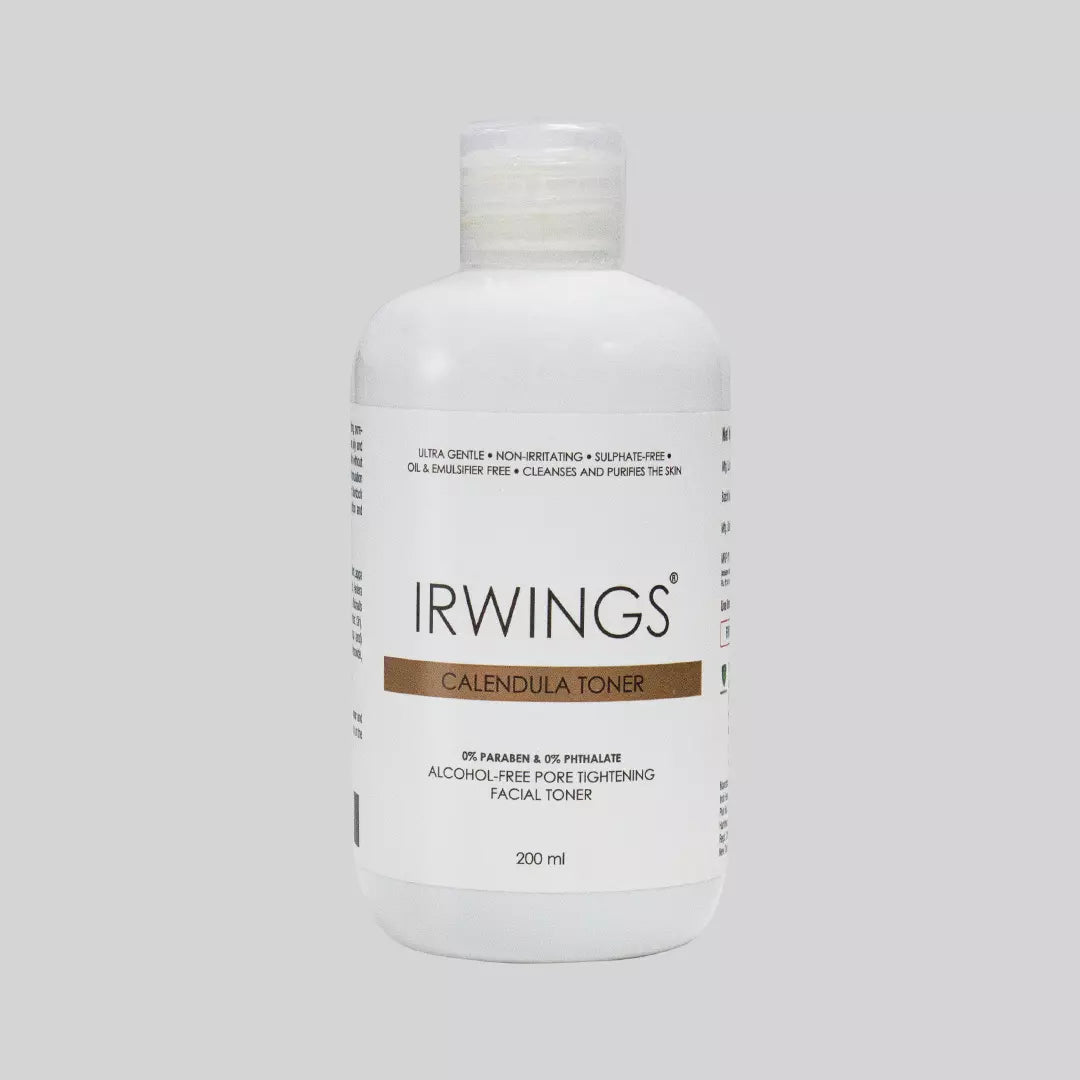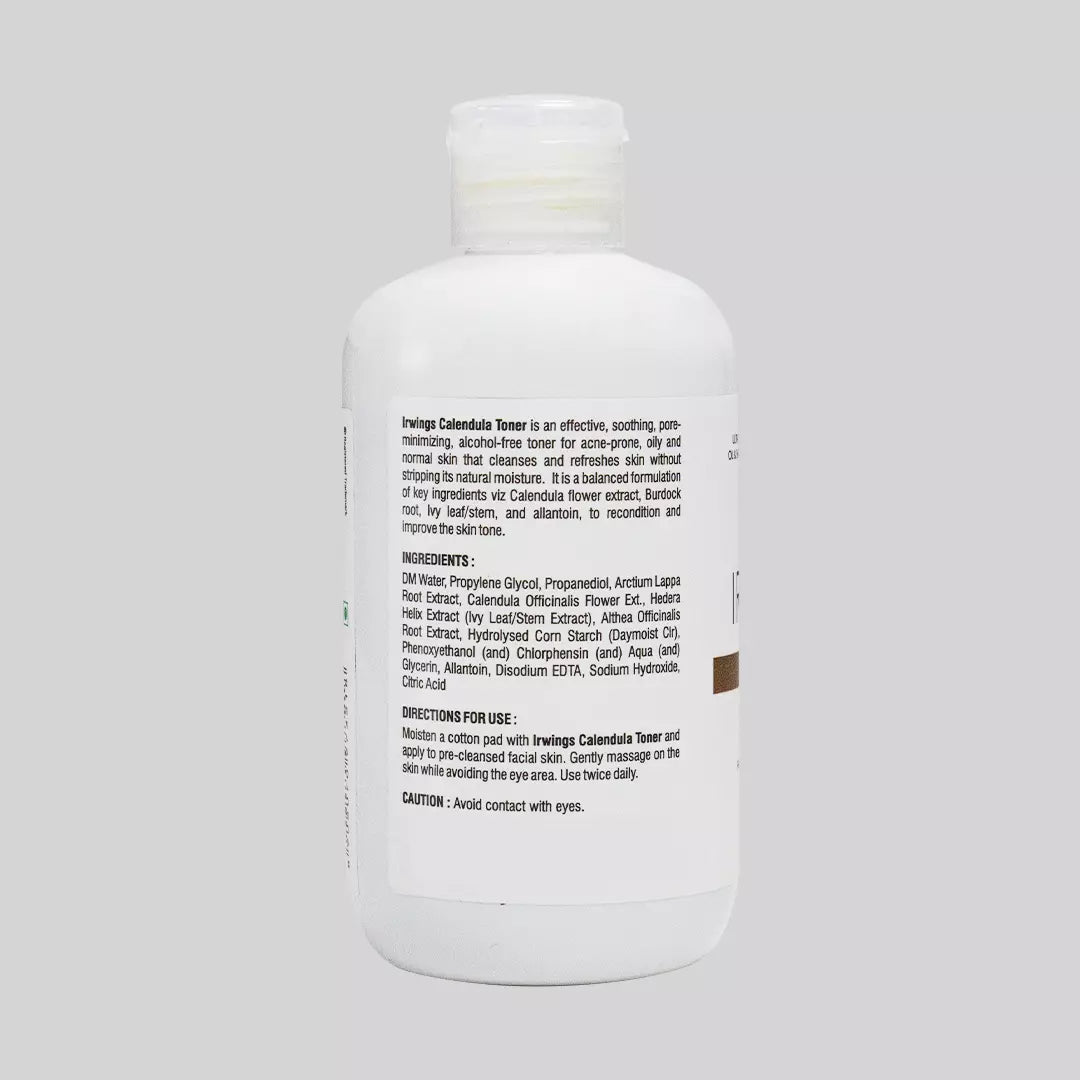 Irwings Calendula Toner
Alcohol-Free Facial Calendula Toner for Deep Cleansing, Makeup Removing & Pore Minimizing.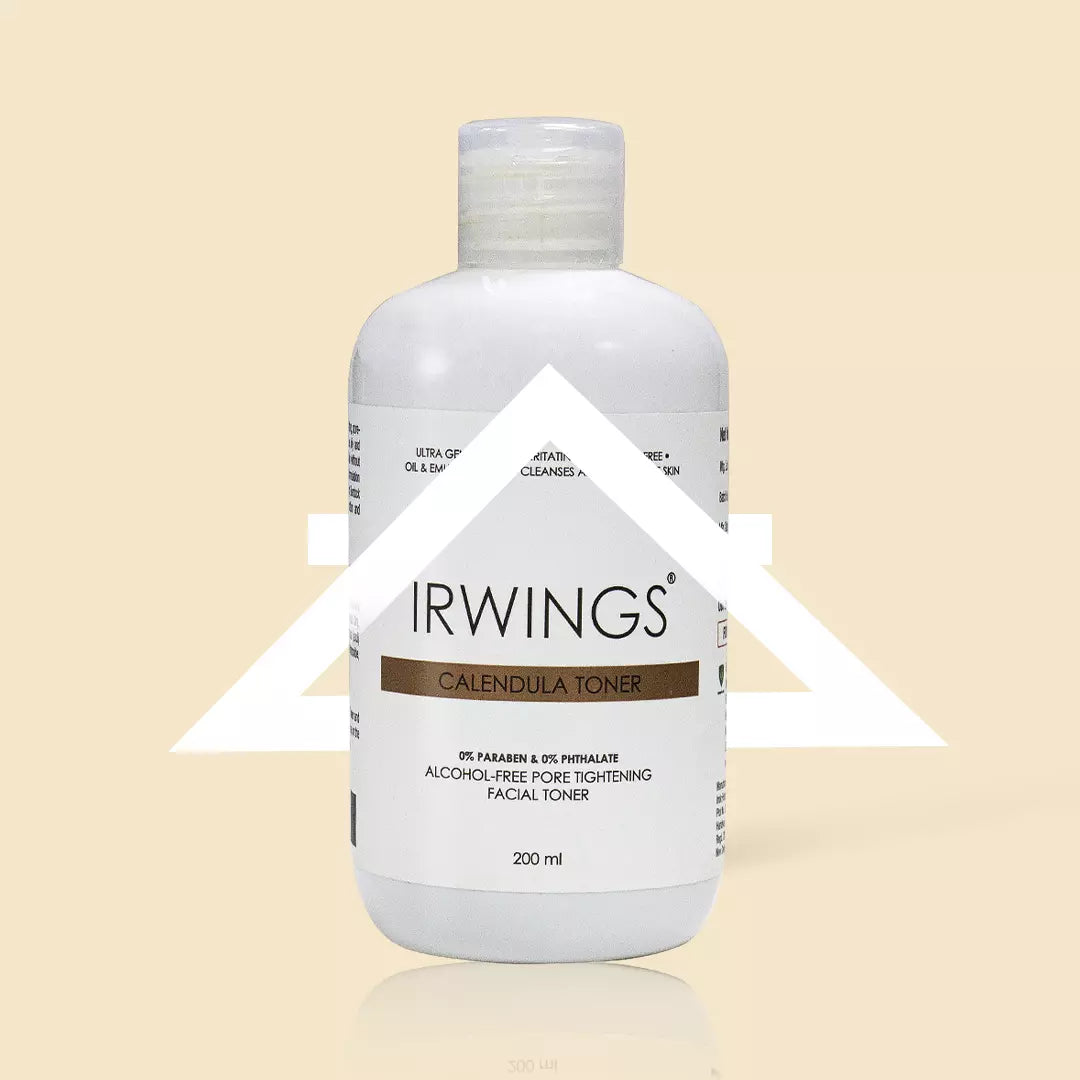 Irwings embodies the reviving and revitalizing power of the air. With your fragrance in the air, Irwings give its love to the wind.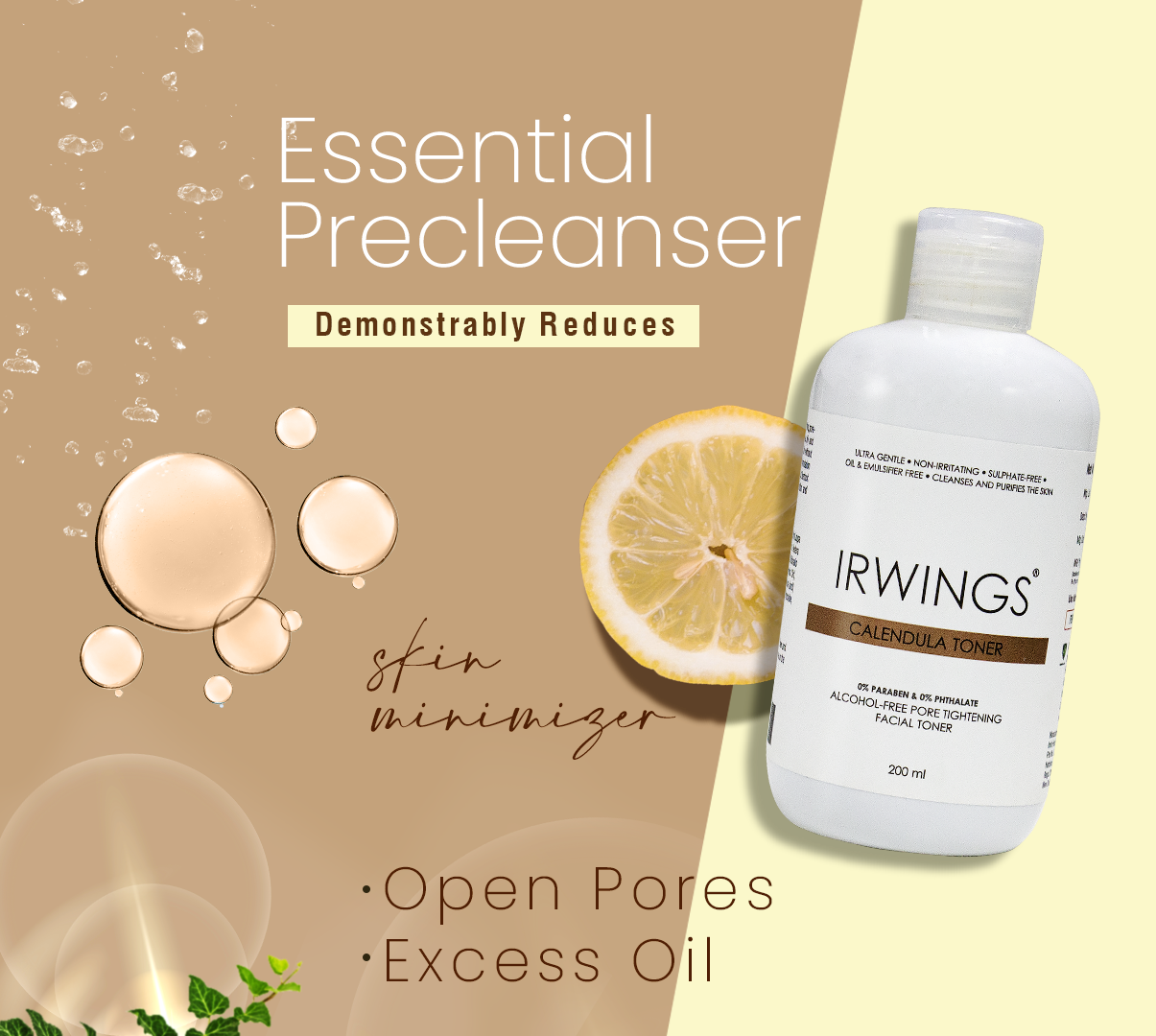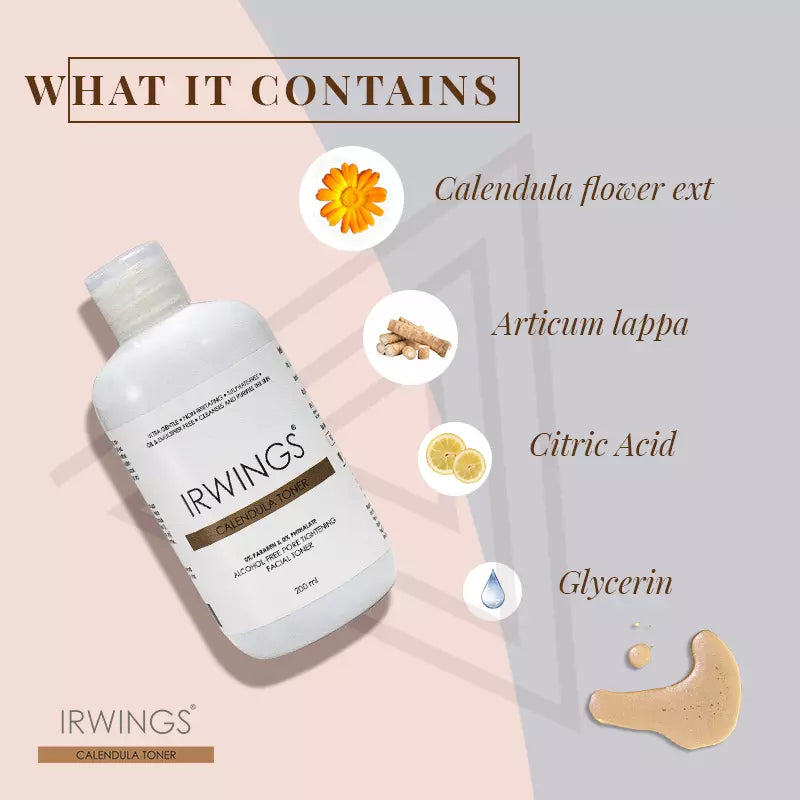 WHAT IT IS
As the first step in competent anti-acne, anti-aging regimens, or skin therapies we invite you to our world of Irwings Calendula Facial Toner, where nature meets skincare to bring out your natural radiant glow. Our carefully curated alcohol free Irwings Calendula toner is a refreshing elixir, rich in calendula extract, that breathes new life into your skin. Irwings Calendula toner, the best toner for oily skin, designed to promote a natural, healthy glow, this facial toner is a must-have addition as an essential precleanser to your skincare routine.
Irwings Calendula Toner is a complete skin rejuvenator bursting with natural goodness. Sourced from the vibrant and healing petals of the calendula flower, root extracts of Articum lappa that normalizes excess facial oil and Marshmallow root extract maintains the hydration levels of skin. It helps to reduce redness and irritation, leaving your skin feeling refreshed and revitalized.
WHAT IT'S GOOD FOR
Large Skin Pores, Blackheads & Whiteheads
Excess Oil and Acne
Makeup Removal
Wrinkles and Aging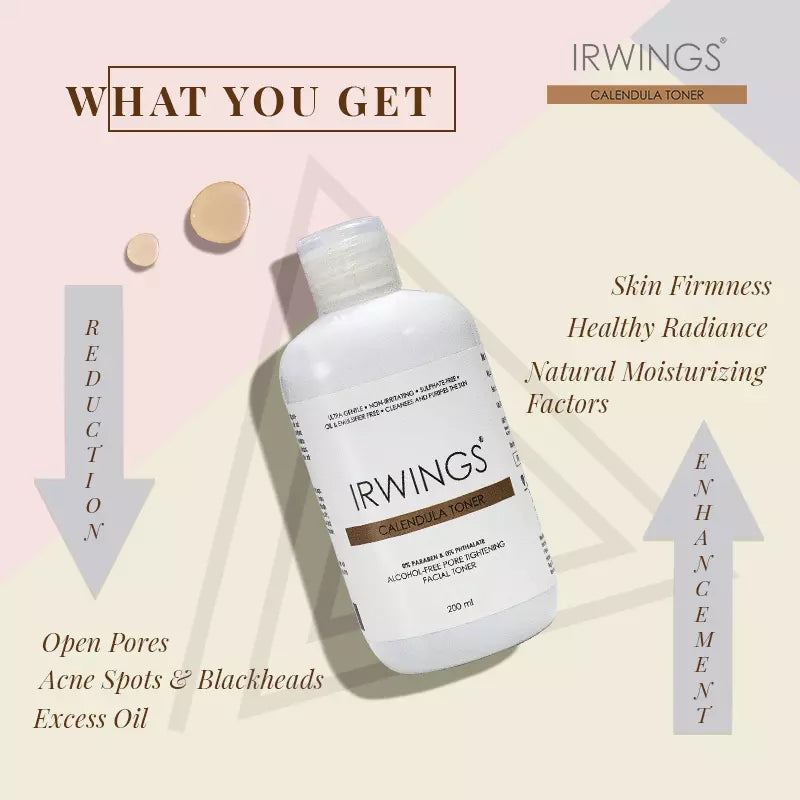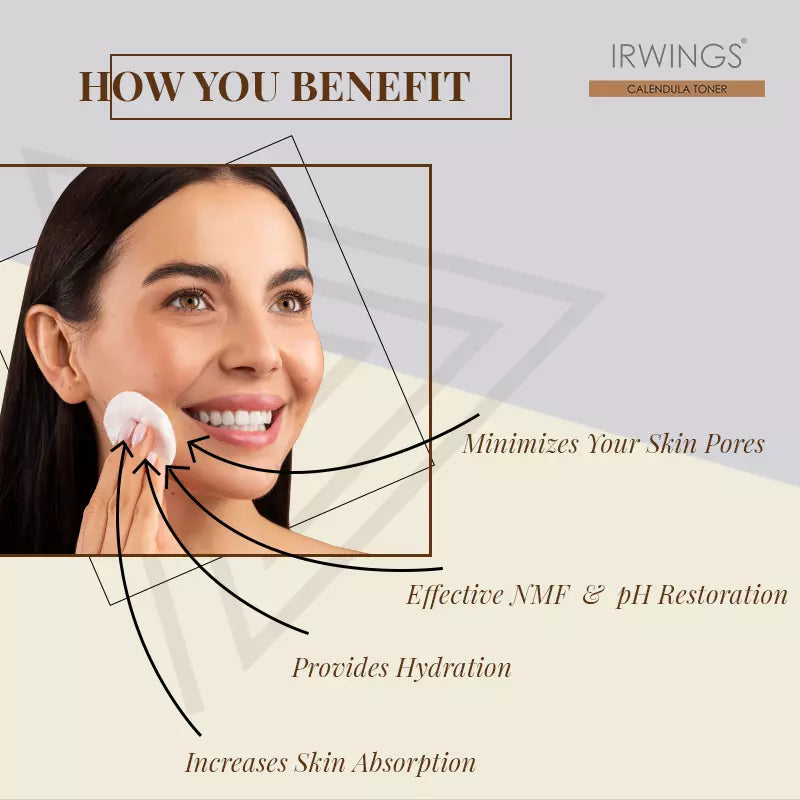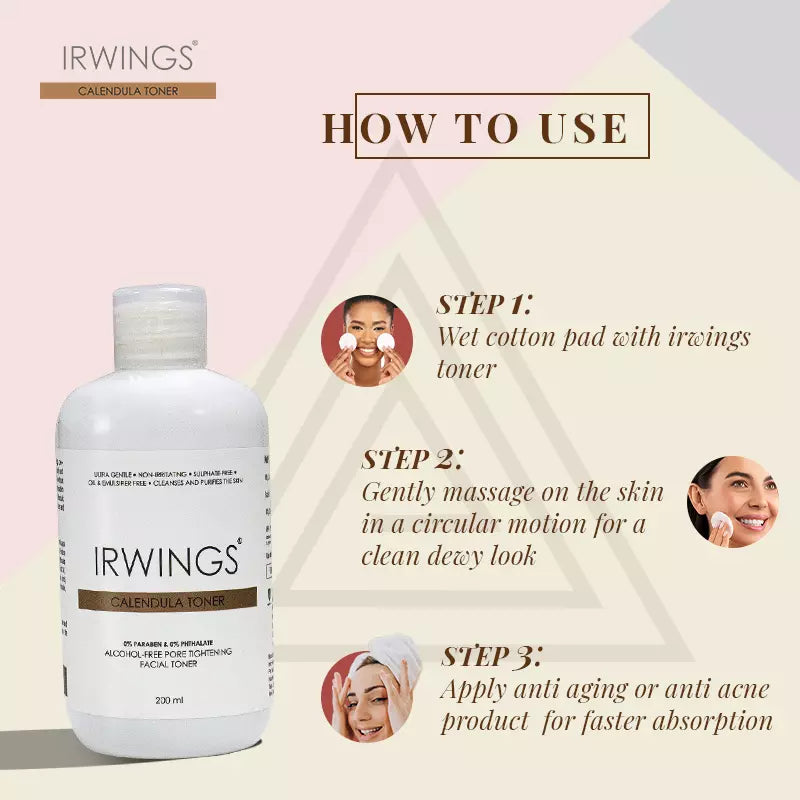 Irwings Calendula Toner – Ultra Facial Toner, Skin Pore minimizer and Rejuvenator
Indulge in the nourishing goodness of Irwings pore minimizer Calendula Toner, crafted to enhance your skin's radiance and vitality. Our all-natural formula combines the power of calendula extract with gentle botanicals, offering a refreshing and rejuvenating experience. Unlock your skin's true potential with this essential pre-cleansing facial toner. Radiate confidence with skin that glows naturally. Embrace the power of Irwings Calendula, toner for oily skin, and experience the transformative radiance of botanical skincare.

Explore our range of Irwings Anti-aging Routine and embark on a journey towards healthier and youthful skin.
Treat yourself to the ultimate skincare indulgence – shop now and embrace the beauty of natural radiance!
Brand Owner
Apple Therapeutics Private Limited
Product Dimensions (LxWxH)‏ :
Manufacturer :
Indo Herbal Products Unit 2
Manufacturer ‏Address :
Plot no-29, sector 1B, I.I.E Ranipur, Haridwar, Uttrakhand-249403
Packer ‏: ‎
Indo Herbal Products Unit 2