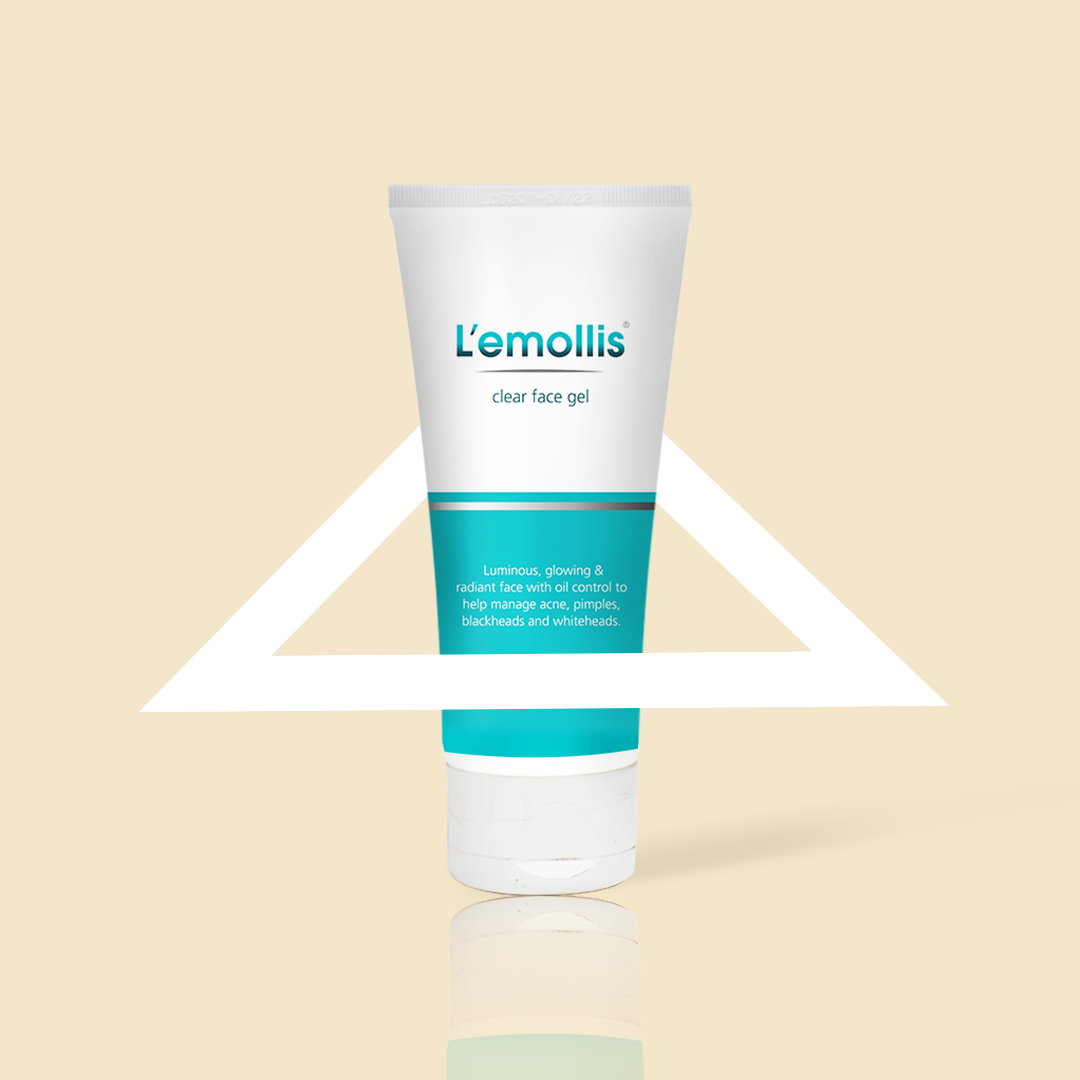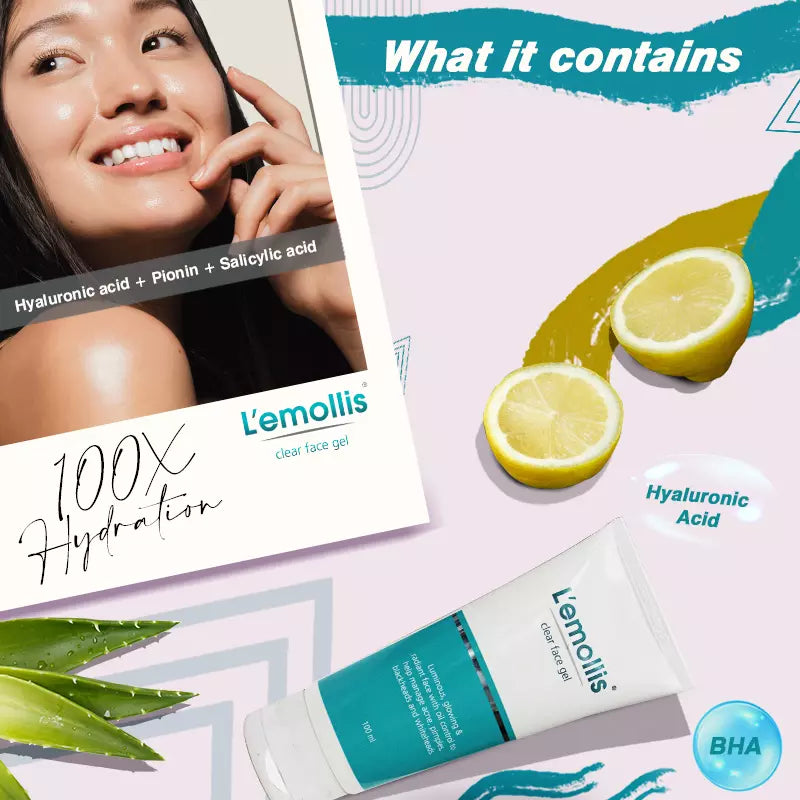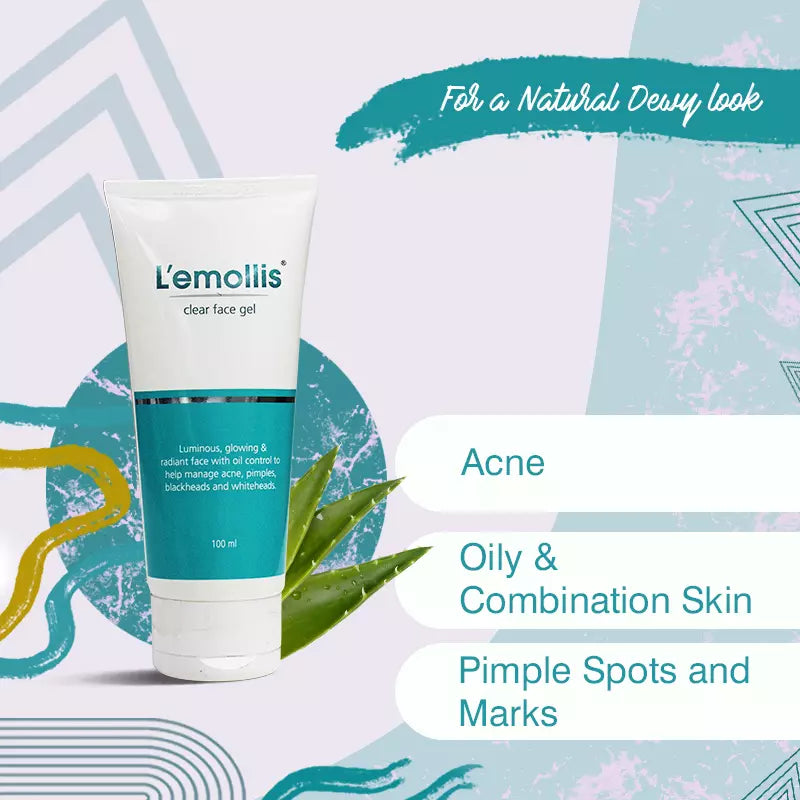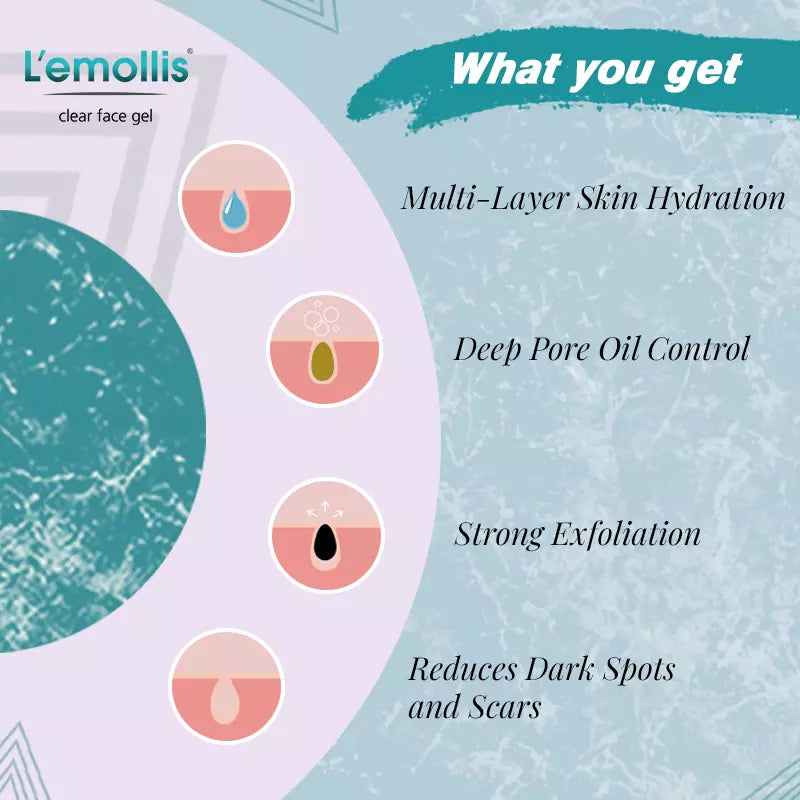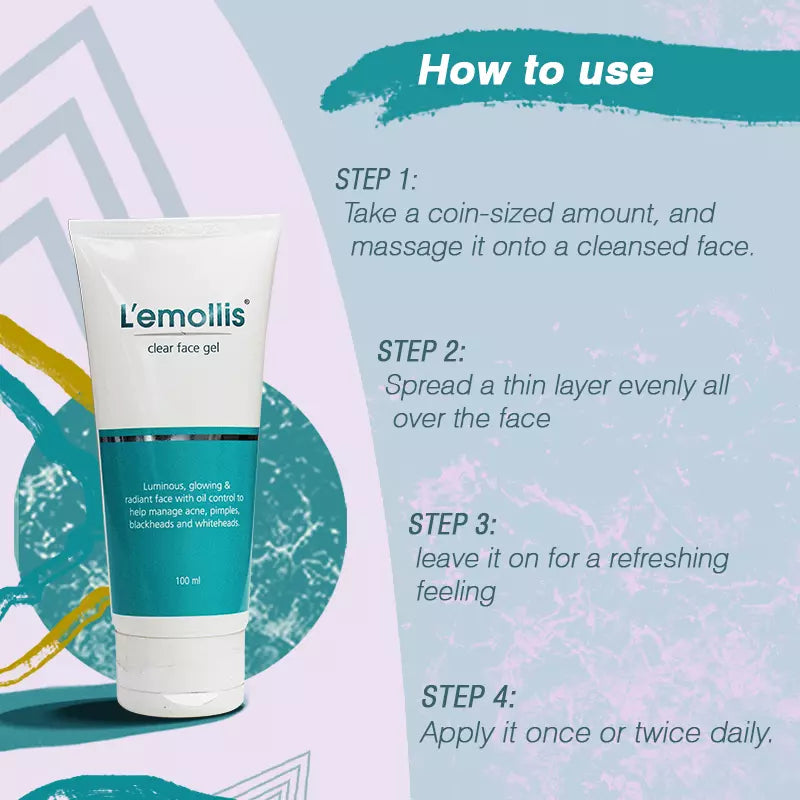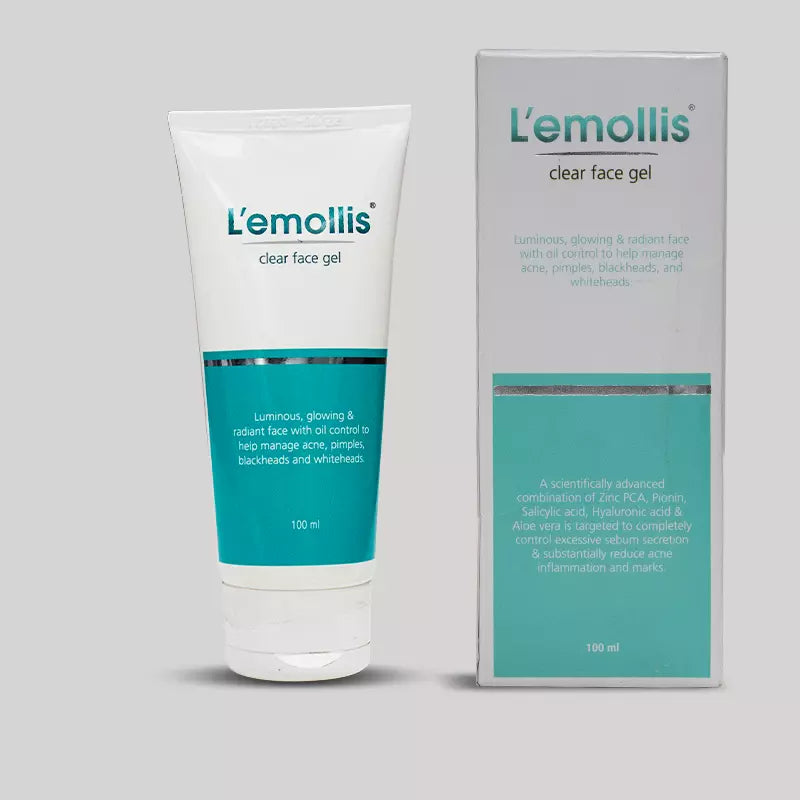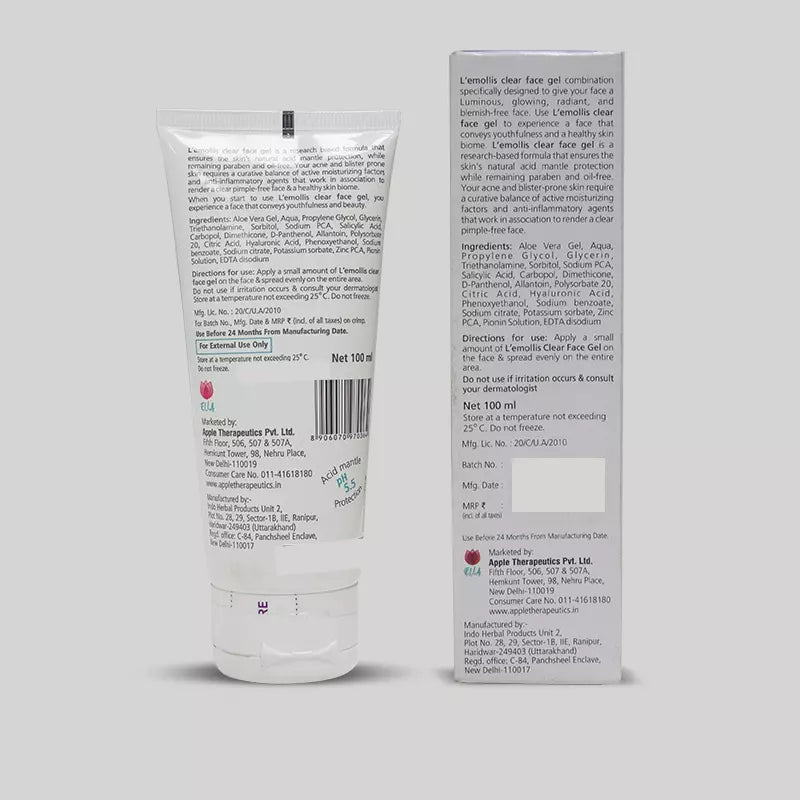 L'emollis Clear Face Gel
Hydrating Face Gel for Blackheads & Whiteheads, Oily, and Acne-prone Skin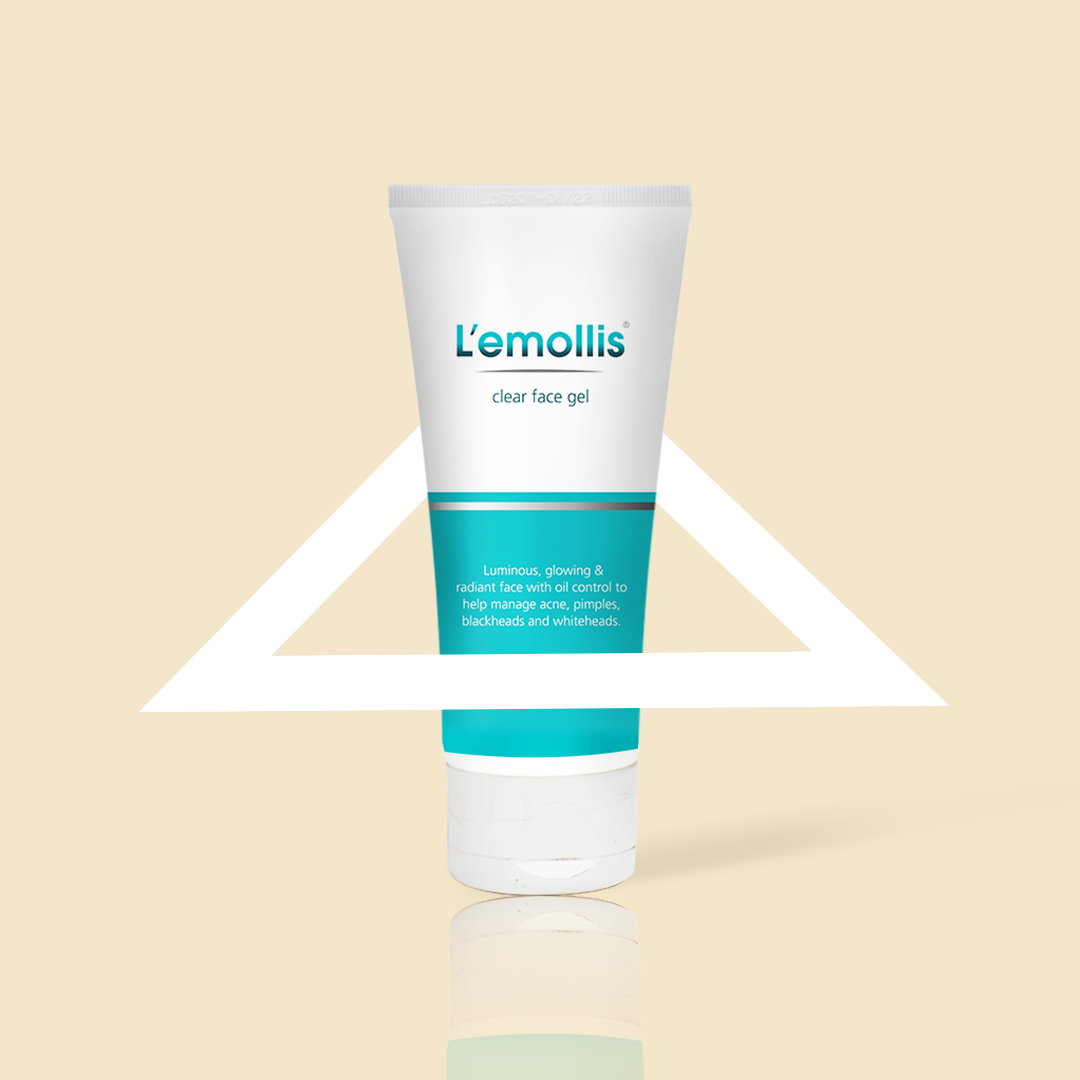 This is now. Now is, all there is. Strike the spark, light the fire, and let your inner radiance glow with Lemollis
WHAT IT IS
L'emollis Clear Face Gel is an Intensely Hydrating and refreshing face gel for oily skin and acne management, that is formulated for all-around protection against acne with its deep pore Sebum (Oil) control, strengthened acid mantle protection, and thorough exfoliating action to help control pimples, blackheads, and whiteheads.

The face gel is a "First-time in India" formulation of Zinc PCA, Aloe vera, and Allantoin that inhibits excess sebum (Oil) secretion and bacterial growth while replenishing the skin's Natural Moisturizing Factors that soften the skin.

LEMOLLIS Clear Face Gel is free of irritants like Parabens & Paraffin – hence is safe for long-term application, even on sensitive and acne-prone skin.
WHAT IT'S GOOD FOR
100 X Hydration without further adding oil to the skin.
Strong exfoliating action thereby clearing blackheads, whiteheads, excess oil, and residual dirt due to cosmetic application.
Maintains healthy Skin pH balance
Significantly reduces deep acne scars and marks with its keratolytic and melanin-reducing action.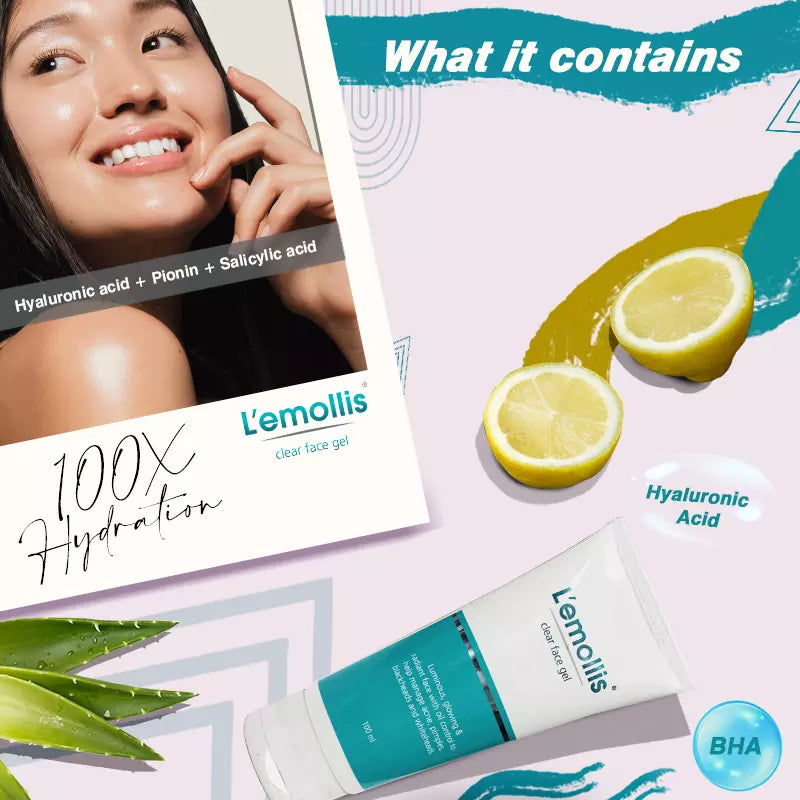 WHAT ARE ITS FEATURES
Zinc PCA helps normalize sebum production and limits the growth of acne-causing bacteria.
This Salicylic Acid Cleanser works as a potent keratolytic agent and promotes deep exfoliation, thoroughly cleansing the skin.
Pionin is a broad-spectrum antimicrobial agent with melanin-reducing properties giving a brightening tone to the face.
Hyaluronic acid gel provides 100 X Hydration and replenishes skin's natural moisturizing factors, softening and smoothening the skin.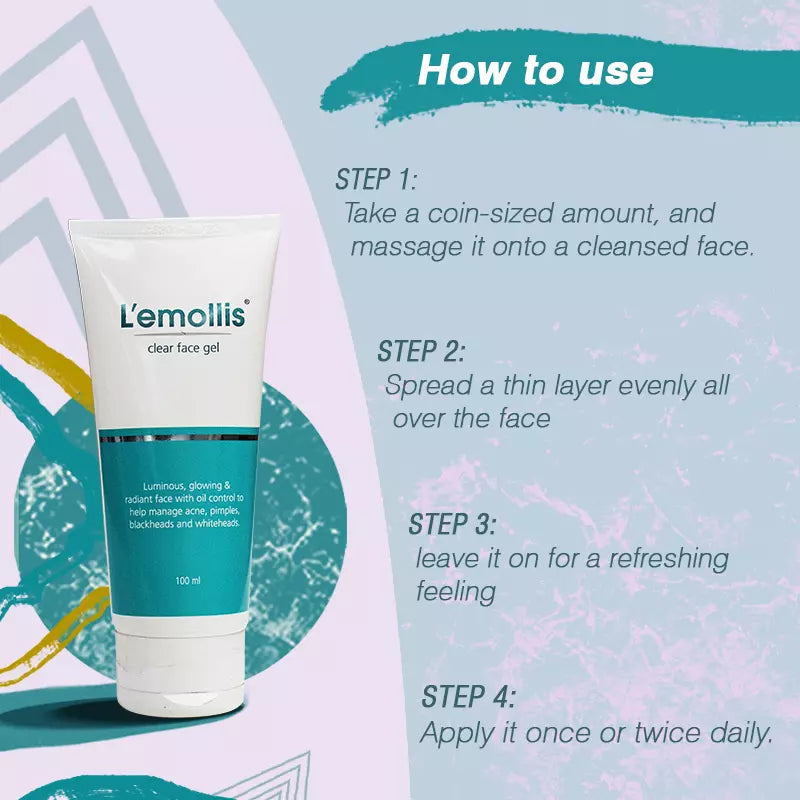 100X Hydrating Face Gel & Deep Pore Oil Controller For Acne Management
L'emollis Clear Face Gel is a fast-acting acne gel formulated to help clear existing acne scars and marks, while also providing long-term protection against future breakouts. The advanced salicylic acid cleanser formula provides targeted protection to help control pimples, oily skin, blackheads, and whiteheads with a significant observation.
Utilizing scientifically advanced ingredients, this acne gel is designed to soothe and restore skin for a clean, clear, and healthy complexion.
Brand Owner
Apple Therapeutics Private Limited
Product Dimensions (LxWxH)‏ :
Manufacturer :
Indo Herbal Products Unit 2
Manufacturer ‏Address :
Plot no-29, sector 1B, I.I.E Ranipur, Haridwar, Uttrakhand-249403
Packer ‏: ‎
Indo Herbal Products Unit 2