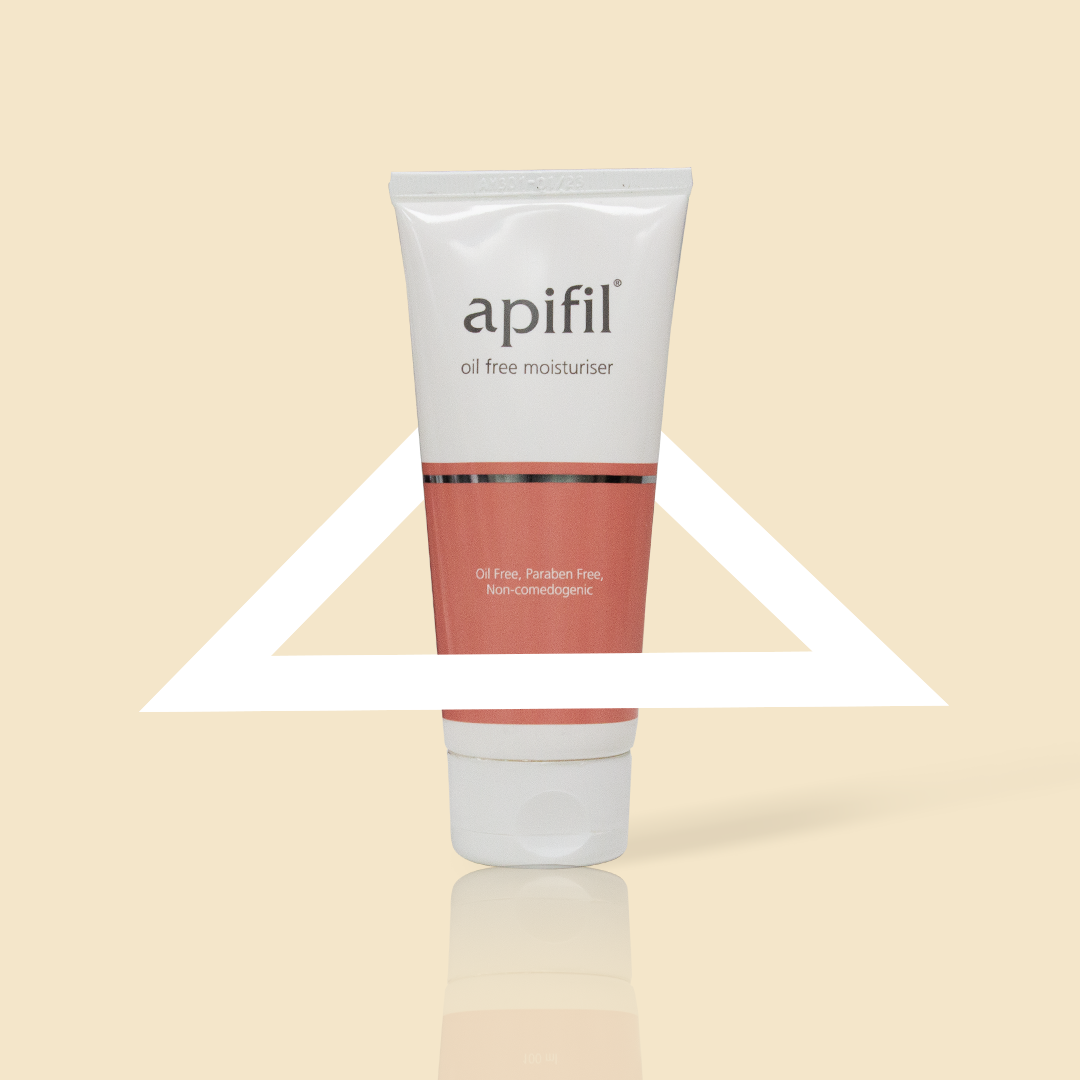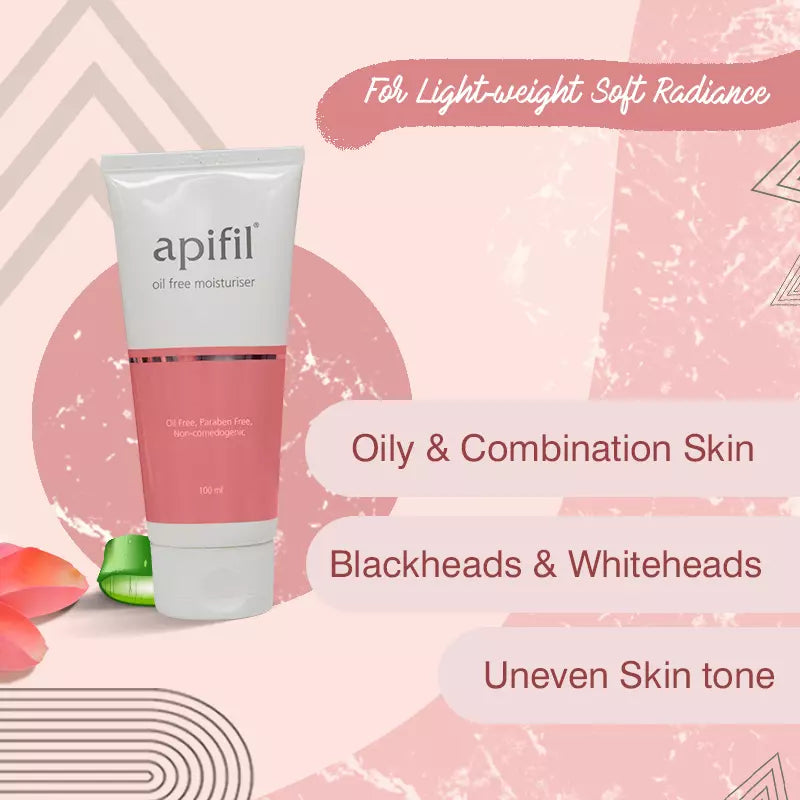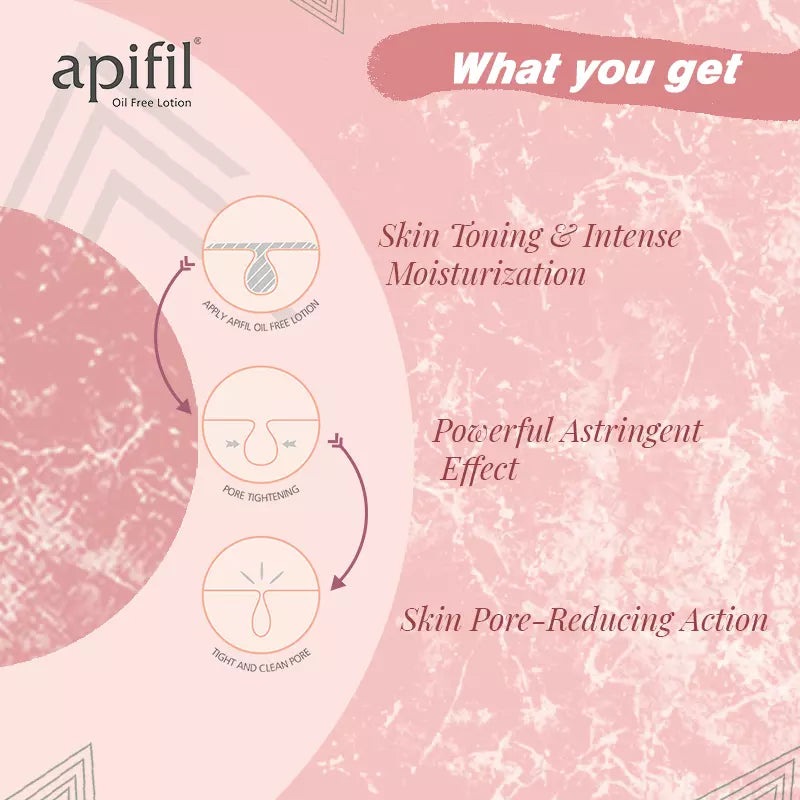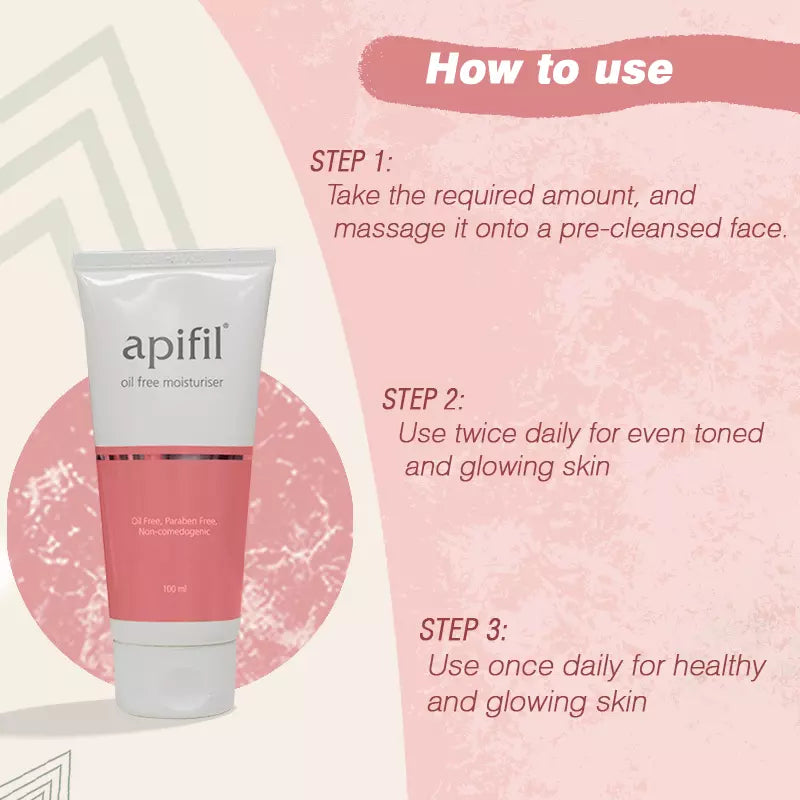 Apifil Oil Free Moisturiser For Oily Skin, 100ml
Intensive Non-Comedogenic Moisturizer for Oily & Acne Prone Skin. Best moisturizer for oily skin used as an acne moisturizer.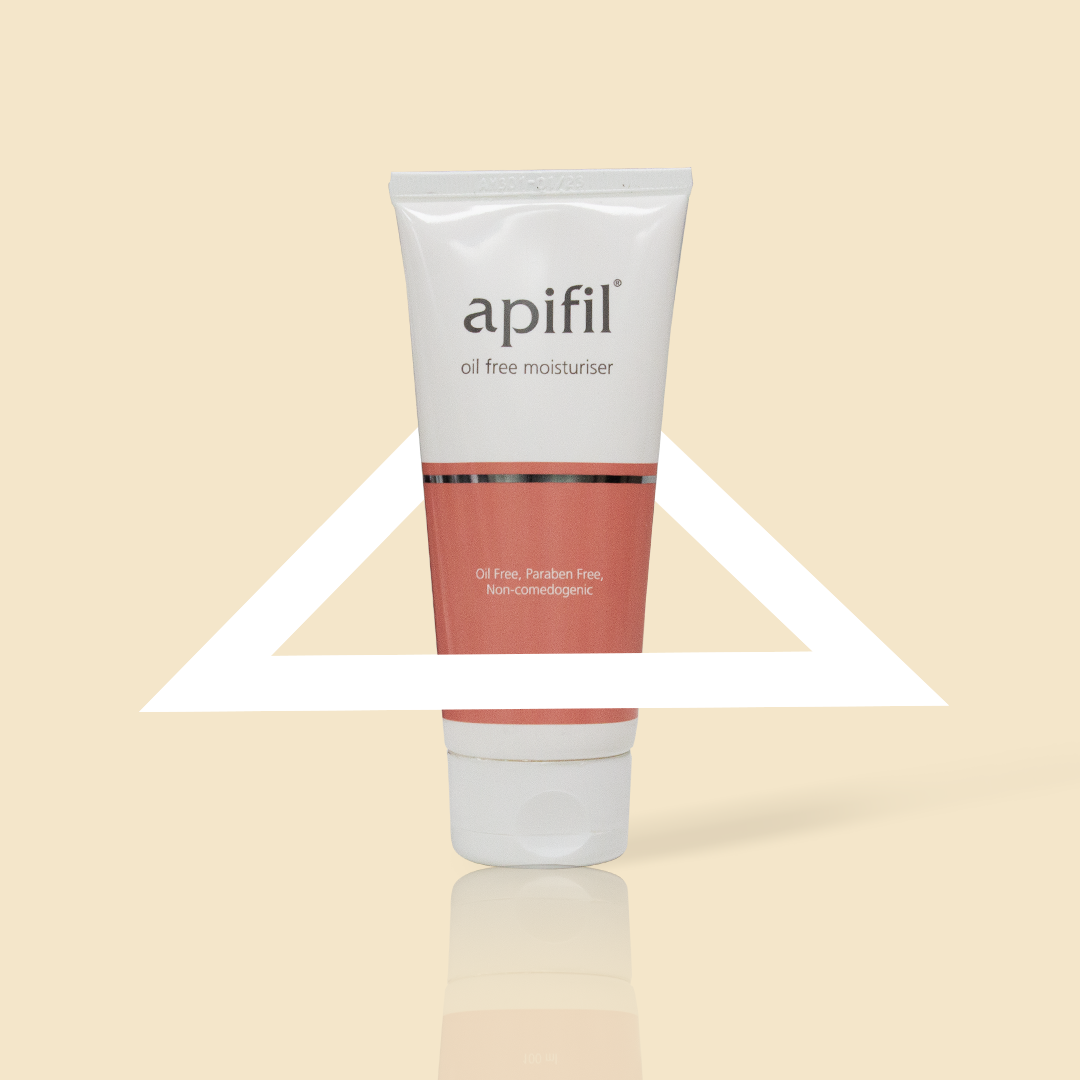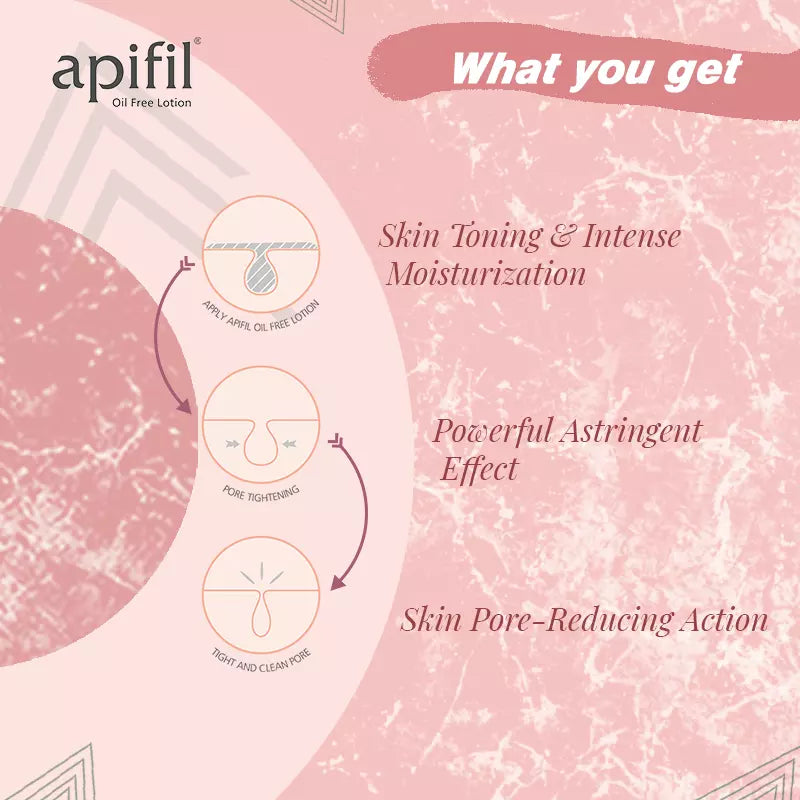 WHAT IT IS
Apifil oil-free moisturizer is formulated with non-comedogenic moisturizing ingredients that are specifically suited for oily & acne prone skin in India as it hydrates the skin without greasiness and clogged pores. Its skin-toning action with Rosa Centifolia extract offers astringent properties, hence controlling oil secretion and minimizing skin pores. The deep cleansing action of Octyl Hydroxystearate unclogs the skin pores and prevents acne breakouts.
Apifil oil-free moisturizer evens the skin tone out and minimizes the skin pores thereby controlling oil secretion and comedones. 
Apifil oil-free moisturizer is absolutely safe and used as an acne moisturizer for daily and long-term usage.

WHAT IT'S GOOD FOR
Moisturizing Toner that evens the skin tone out giving a soft and radiant glow.
Significantly decreases skin pore size hence reducing excess oil secretion and comedones formation.
It is best moisturizer for oily skin that prevents acne breakouts and reduces Sunlight induced brown spots and pimple marks.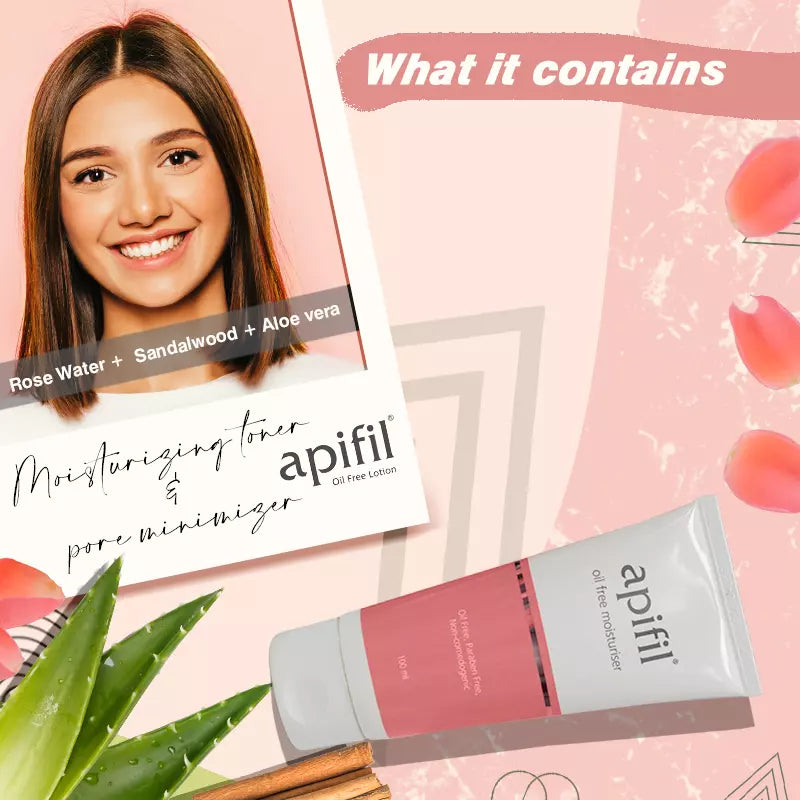 WHAT ARE ITS FEATURES
Rosa centifolia's astringent action reduces the size of skin pores, normalizes oil production, and evens the skin out.
Sandalwood's antioxidation action helps maintain the structure of the skin cells, reducing dryness, replenishing Natural moisturizing factors, and increasing elasticity.
Aloe vera has keratolytic action and soothes fresh acne breakouts and inflammation.

The rest of the formulation evens the skin tone out and provides UV protection, enhancing the skin's natural soft radiant glow by removing acne and pimples.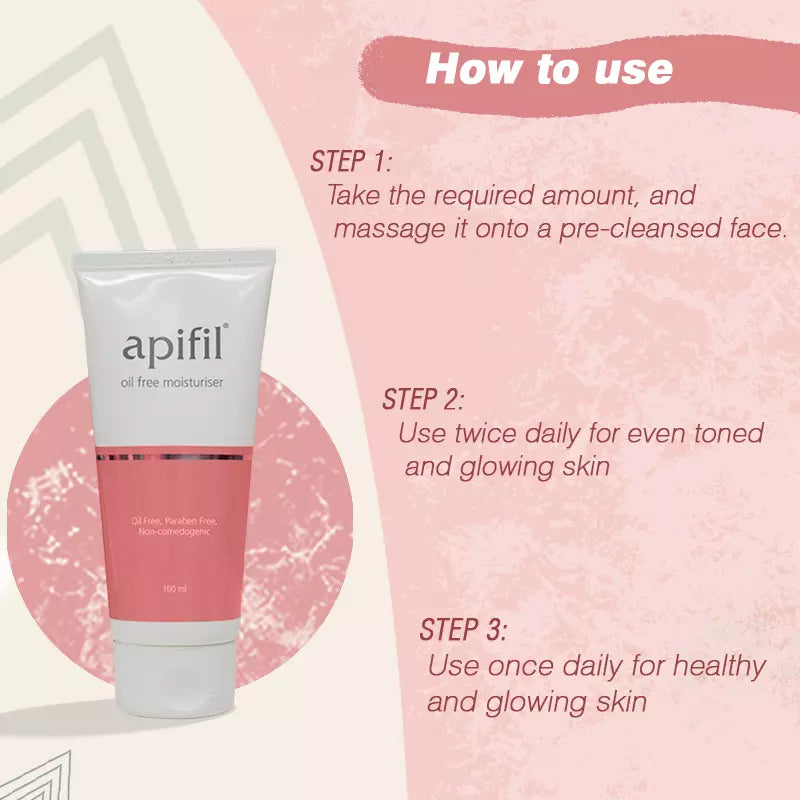 Intensive Non-Comedogenic Moisturizer
Let's break the myth that oily skin does not need a moisturizer. In fact, oily and acne-prone skin needs more frequent moisturizing efforts in order to prevent excess skin oil secretion.

When one has oily skin, he or she may think that using a moisturizer is the last thing they need. But, skin being the body's largest organ and the one that is most exposed to environmental conditions, it often needs a moisturizer to mitigate the loss of hydration even if it is oily or acne-prone.

When skin is dehydrated due to insufficient water intake or impaired skin barrier, the body compensates by producing more oil to strengthen the skin's barrier function and over-secretion of oils often leads to the clogging of the pores and the consequent development of more pimples.
Therefore, it is recommended to keep your body hydrated by taking a lot of water and applying intensely hydrating non-comedogenic moisturizer.

Brand Owner
Apple Therapeutics Private Limited
Product Dimensions (LxWxH)‏ :
Manufacturer :
Indo Herbal Products Unit 2
Manufacturer ‏Address :
Plot no-29, sector 1B, I.I.E Ranipur, Haridwar, Uttrakhand-249403
Packer ‏: ‎
Indo Herbal Products Unit 2