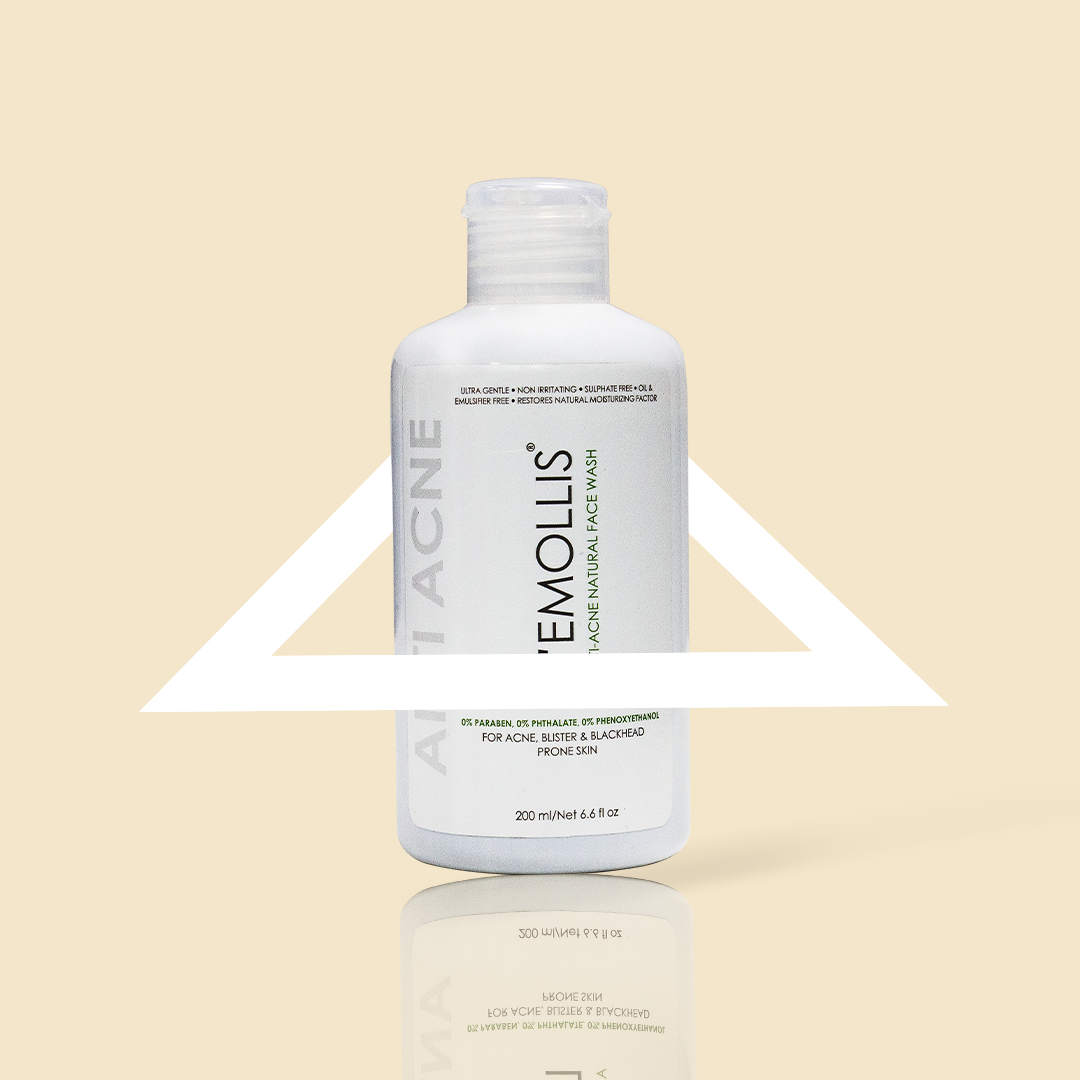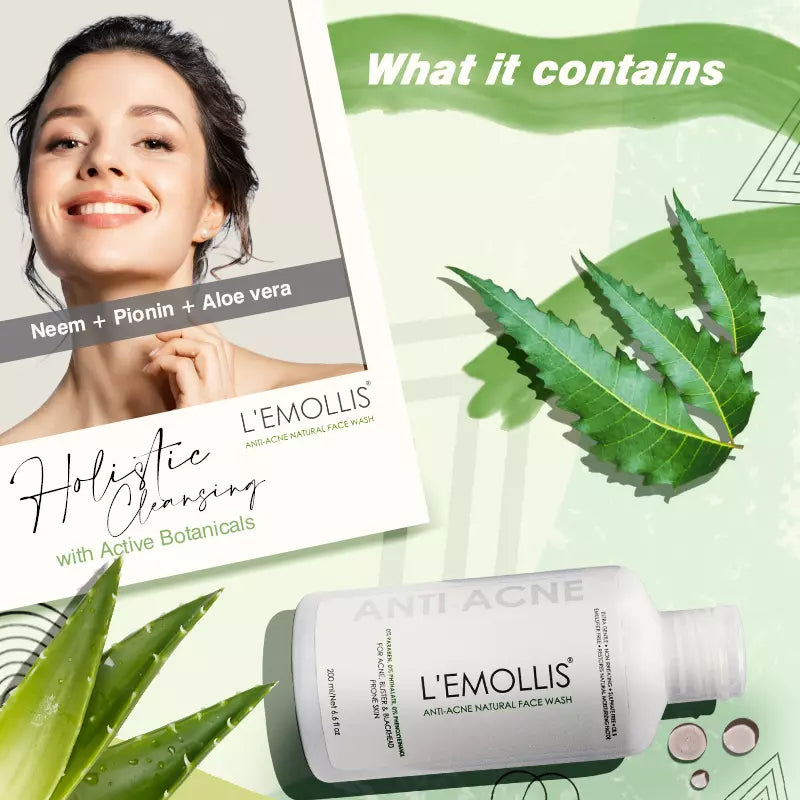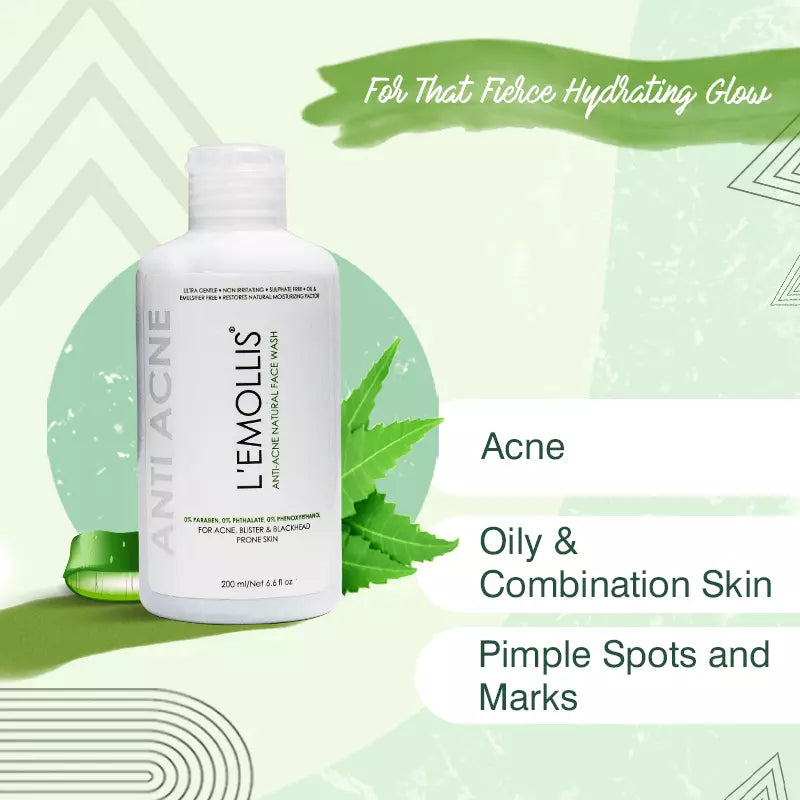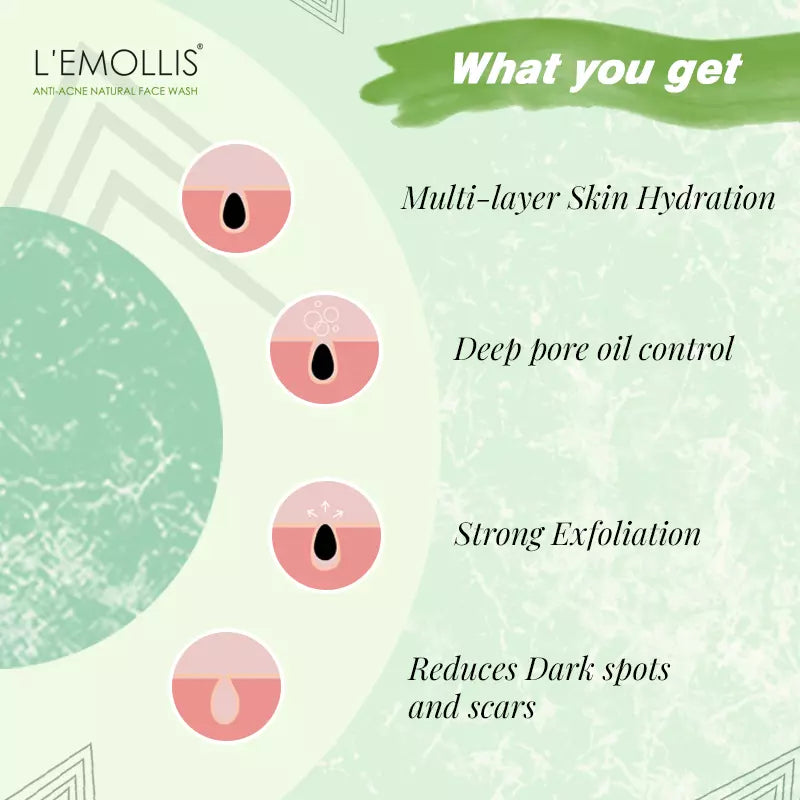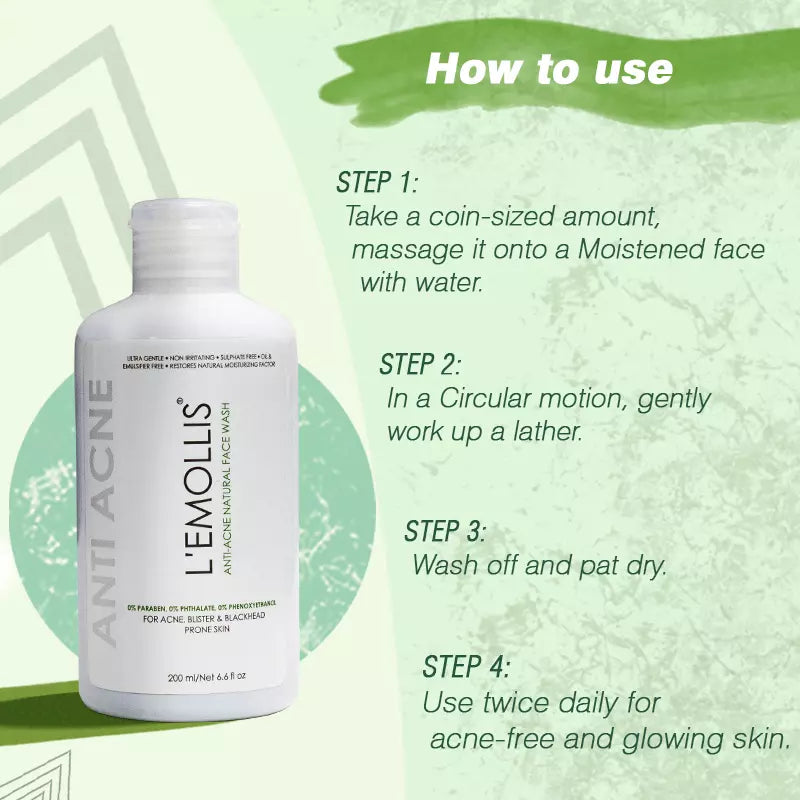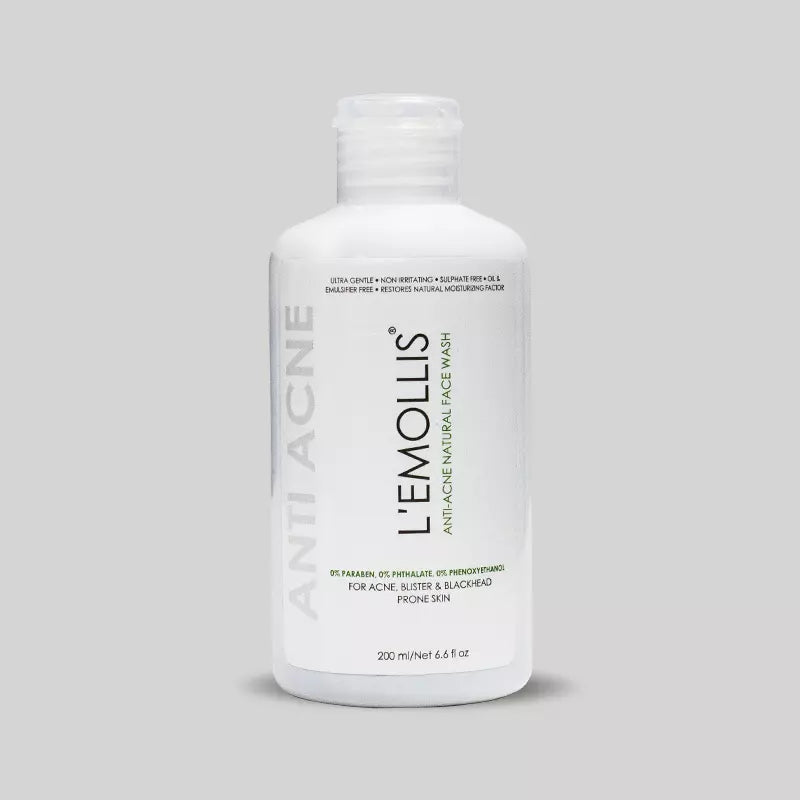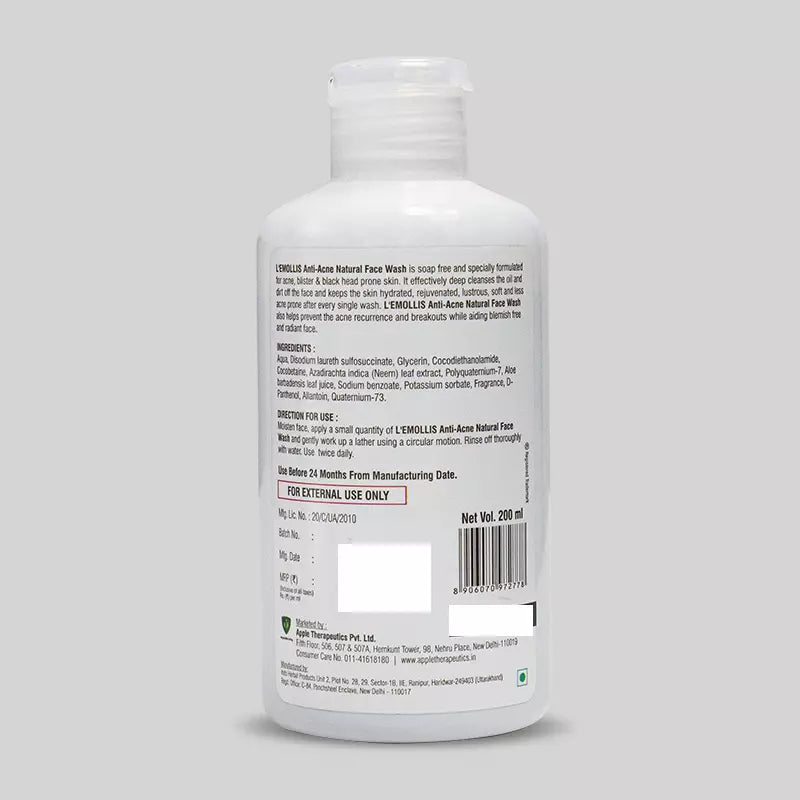 L'emollis Anti Acne Natural Face Wash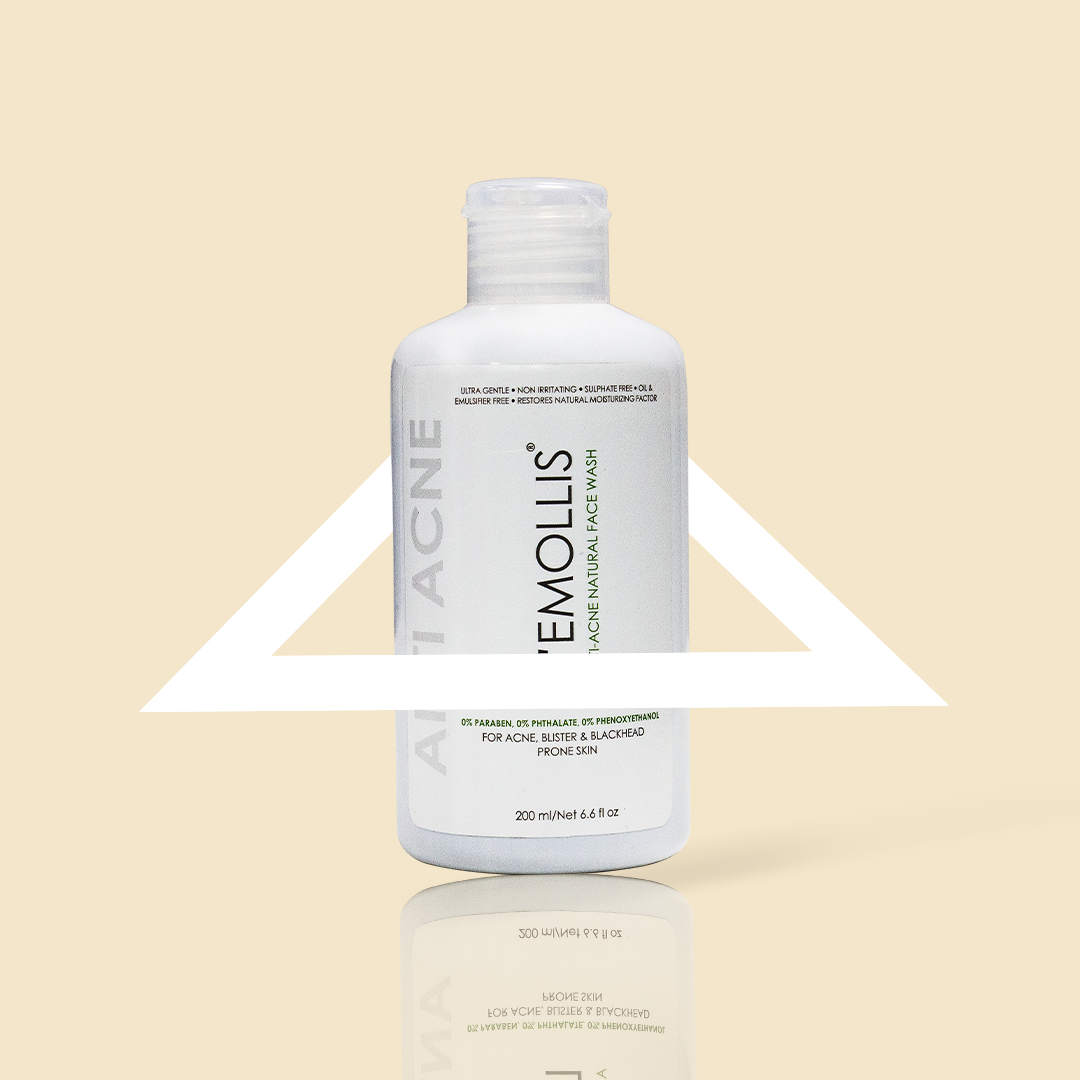 This is now. Now is, all there is. Strike the spark, light the fire, and let your inner radiance glow with Lemollis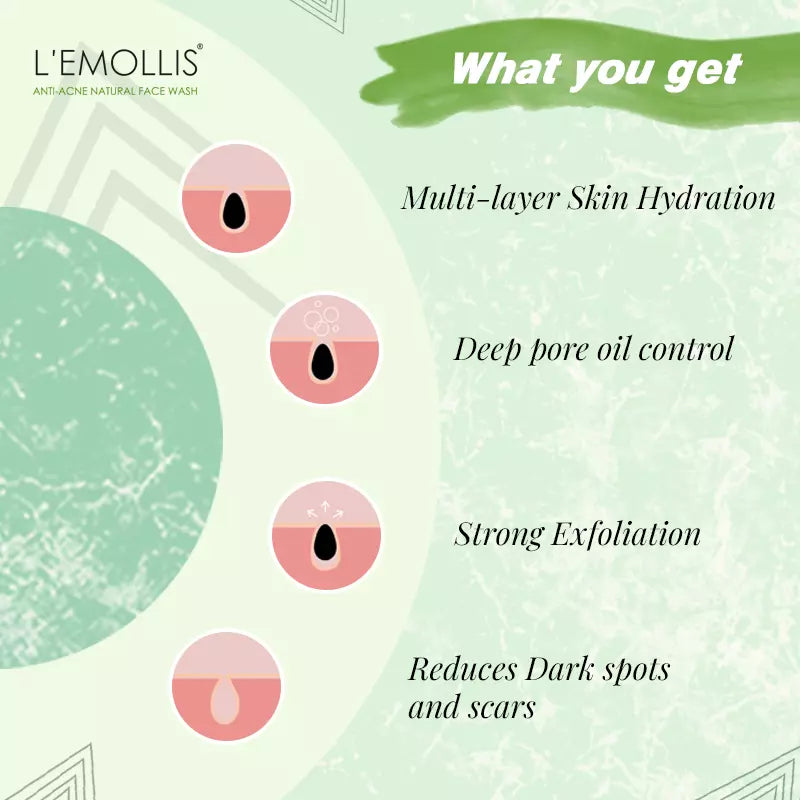 WHAT IT IS
L'emollis Anti-Acne Natural Neem Face Wash is an effective way to prevent break-outs and manage severe acne & Oily skin. It contains natural actives of Neem and Aloe vera that help soothe and heal acne-prone skin. L'emollis Anti-Acne Natural Neem Face Wash gently cleanses the skin without stripping away its natural moisturizing factors. It also reduces acne marks and scars. Plus, it's free of sulphates, silicone, and parabens, so it's gentle enough even for sensitive skin.

If you're looking for an effective and holistic way to tackle acne problems, Lemollis Anti Acne Natural Neem Face Wash is a great option. With regular use, you can enjoy fresh and healthy skin!
WHAT IT'S GOOD FOR
Manage and prevent recurrent acne breakouts through the Anti-inflammatory and Antiseptic properties of Neem.
Antimicrobial and brightening action of Pionin.
Deep Pore cleansing and soothing action of Aloe vera.
Healthy Sebum control and gentle thorough cleansing.
WHAT ARE ITS FEATURES
Helps Gently Heal Acne and Acne Marks
Deep Cleansing Action
Healthy Sebum Control
Anti-inflammatory & Antiseptic
Helps Prevent Acne Breakouts
Non-Irritating
Sulphate-Free
Paraben-Free
Oil & Emulsifier-Free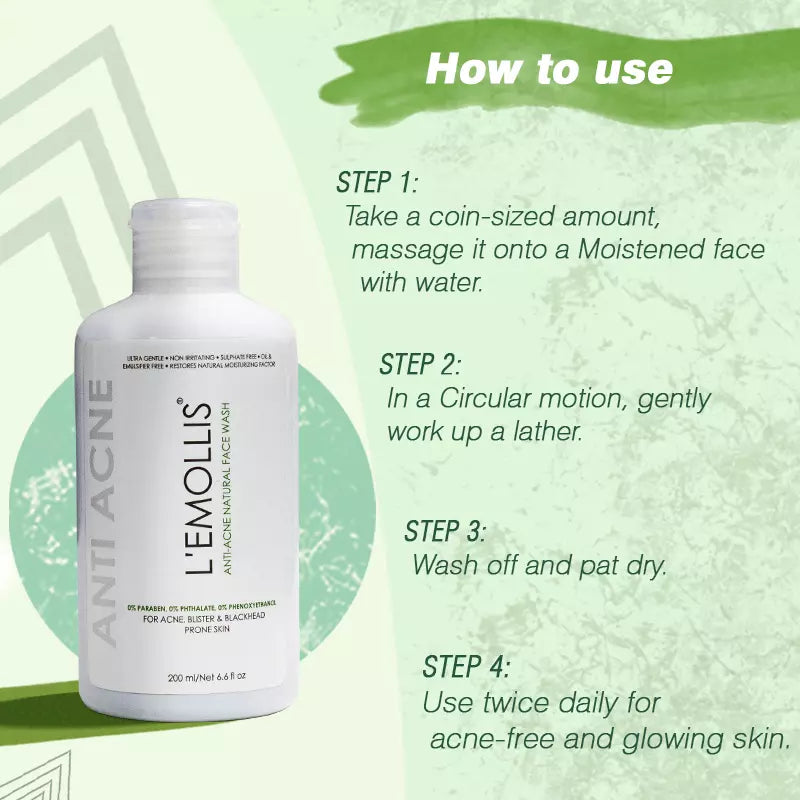 Holistic Acne Management with Active Botanicals
L'emollis Natural Neem Face Wash is formulated with traditional natural ingredients like Neem and Aloe vera, and scientifically effective ingredient like Pionin. This natural face wash helps to manage existing breakouts and prevent new ones from forming.
It provides deep cleansing action, gently removing dirt and other impurities without irritation, and is sulphate and paraben free. Additionally, it helps to regulate healthy sebum production and reduce inflammation, leaving skin feeling refreshed and revitalized.
Brand Owner
Apple Therapeutics Private Limited
Material Feature
With Natural Neem Extract
Product Dimensions (LxWxH)‏ :
Manufacturer :
Indo Herbal Products Unit 2
Manufacturer ‏Address :
Plot no-29, Sector 1B, I.I.E Ranipur, Haridwar, Uttrakhand-249403
Packer ‏: ‎
Indo Herbal Products Unit 2